---
With the kids back at school, no doubt all parents across the country are breathing a sigh of relief with another marathon of school holidays now behind them.
Entertaining active youngsters for six weeks is never easy, but British Cycling has tried to play its part in engaging the youth of the North West over the past two summers through a series of holiday programmes organised in partnership with two of the region's top football clubs, Manchester City and Bolton Wanderers.
With over 150 kids passing through our schemes, the signs are good for widening the scheme throughout the country.
The partnership kicked off early in 2010 through the contacts of Charlotte Connolly, who is the longest serving member of the Cycle Training team and sits staunchly on the blue half of the city divide when it comes to football. Using her good offices; a fruitful relationship was formed with one of our near neighbours here in Sports City - Manchester City Football Club.
Like most clubs, MCFC has a social remit and is keen to broaden its activities outside the sphere of football for the benefit of their fans and the wider community, whilst also promoting the Club itself. Couple this with British Cycling's obvious desire to promote cycling generally, and cycle training in particular, a truly symbiotic relationship was formed and so began our school holiday programme based initially at Etihad Stadium.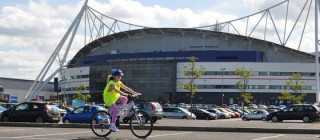 Over the last two years, we've run a total of seven holiday courses; four at Etihad, two at the Reebok Stadium with Bolton Wonderers and one with Ashton Curzon FC (not in the Premiership - yet). We've trained 159 youngsters, ranging in age from seven to sixteen, mostly the children of football supporting families from the respective clubs.
In 2010, we concentrated on delivering Bikeability sessions. This is 'Cycling Proficiency for the 21st Century' as it's been nationally advertised, and is far more relevant for riding on today's busy roads with faster traffic, than the sixty year old previous scheme, which more or less ceased to exist in 2006.
Bikeability covers three levels of training depending on the skill and expertise of the trainee. Level 1 consists of basic bike handling skills - balance and steering, emergency braking, signalling and looking behind etc - and is carried out in a traffic-free environment, often a school playground or car park.
Level two covers simple road manoeuvres such as overtaking parked cars, turning left and right from major and minor roads and general traffic awareness. This normally takes place on quiet estate roads which are familiar to the trainees; the idea being to equip children with the skills to ride safely to school and visit relatives and friends locally. Level three deals with faster, heavier traffic environments, in fact all road situations except motorways. Our focus was mainly on the first two levels; however, a few of the older children managed to progress quite quickly onto level three training in and around Manchester.

This year, we've been able to broaden the scope of the programme and, with the help of our Go Ride coaches, include more cycle sport related activities. This further enhances the children's bike handling skills and introduces some of the aspects of competitive riding in a safe and fun environment.
Right from the beginning, each programme has included a stadium tour and, in some cases an opportunity to meet the players and club personalities. Highlights that spring to mind are; in the press room at Etihad with children being photographed seated in the chair that Roberto Mancini uses during conferences; a peep into Owen Coyle's office and walking round the team physio and changing rooms at the Reebok; and running down the tunnels out to the pitches at both stadia. A look behind the scenes which makes a rare treat for these young fans.
Programmes at both Bolton and Manchester have always culminated in an award type presentation in front of parents and friends, where Bikeability certificates and 'goodie' bags are handed out by club mascots; Lofty Lion and Moonchester respectively.
So, by the end of each programme, we hope that the children have learned the basics of riding a bike in traffic, been encouraged to think of cycling as a sport or, at the very least, improved their bike handling skills. And, of course, got to know and love their respective clubs a little better. We hope, too, that they've enjoyed at least a small part of their holiday and can start the new term full of enthusiasm.
Having now developed a tried and tested format, our intention next season is to cascade the scheme out to other football clubs in our region - and perhaps beyond. 'Conference League Cycling' next year. Watch this space!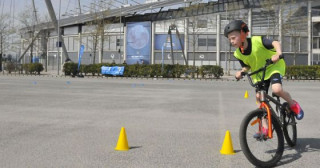 Further details of future Holiday Schemes can be found here
Alternatively: Email: cycletraining@britishcycling.org.uk
Tel: 0161 274 2129
Check out The Hub's new Facebook page for more photos and Go-Ride updates. The more 'Likes' we get the better!
The Hub is British Cycling's exciting new membership package for Under 16s. To find out more, click here!