Saturday 20 October saw the final British Cycling Talent Induction draw to a close in Chippenham. The talent inductions welcomed over 120 riders, 30 coaches and 120 parents across four events.
2018 was the first year the British Cycling Talent Development Team have run inductions for riders new to pathway activity. The aim of the inductions was to provide support to all stakeholders who are involved in supporting young athletes in their journey of cycling and provide them with a consistent message. Parents and volunteer coaches were invited to spend the day taking part in workshops and activities to help understand how they can work together to support the athlete.
Talent inductions visited four venues across England; New College Leicester, Burnley College, Bromley College and Hardenhuish School. Each event was also supported by British Cycling Go-Ride coaches and newly appointed Club and Coaching Officers ensuring connectivity at regional level into pathway activity.
The talent induction was also supported by two Universities, University of Central Lancashire (UCLan) and University of Chester, both played pivotal roles in developing and delivering key content on the days. UCLan lecturers Bryan Jones (Principal Lecturer in Coaching and Performance) and David Grecic (Principal Lecturer in Physical Education and Talent Development) led on the parent and volunteer coaches workshops whilst University of Chester Sport and Exercise technician (physiology) Richard Bott with six Bachelor of Sport Science students led on the data collection sessions for athletes.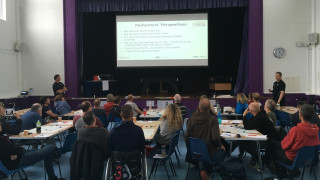 After an opening address from Talent Development Team Leader, Joe Malik, parents and coaches broke out into role clarity and data observation workshops whilst riders took part in data collection and conditioning sessions to support their individualised development. The day also featured nutrition, and a workshop on bike equipment and principles, to provide young athletes with knowledge around bike positioning as they grow. The final keynote session of the day brought everything together with a focus on goal setting and performance profiling.
Speaking of the event Joe Malik said 'The opportunity to bring all of the stakeholders together who support the development of riders in one environment rarely happens. This new initiative is a fantastic starting point on enhancing the Sport England funded talent programme as well as evolving how British Cycling engages with all parties to support the long-term development of young athletes.'
Helen Thompkins, parent of one of the athletes said 'Both Charlie and I came away inspired and ready to actively follow up on suggestions made. We have been feeling our own way through the maze of youth races, training…today represented a real step change in British Cycling's own approach. I feel more confident that we know how to progress, armed with some pointers as to best practice, but also that we genuinely have somewhere to come.'
Summing up the four events, Joe Malik said:
"This year's inductions have been a huge success, and there are some really exciting developments on the horizon. Each of the workshops have been recorded and will soon be made available for everyone to watch online via the British Cycling website so that everyone can re-visit some of the key content'.
For more information around the British Cycling talent pathway click HERE.