The British Cycling Talent Development pathway is a Sport England funded pathway delivering English based activity to clubs and athletes.
The programme focuses on identifying, supporting and developing young bike riders on and off the bike.
One of the key aims of the talent pathway is to support the development of a pool of bike riders year-on-year who can transition into the Great Britain Cycling Team (GBCT) programmes.
The British Cycling Talent Development programme is made up of three stages; Development Centres, Regional Schools of Racing and National Schools of Racing.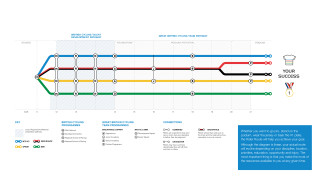 Talent Development Guide
We have created a talent development booklet to support riders, parents, coaches and clubs understanding on what is required at each level of the pathway across circuit, track, BMX and MTB.
It is the starting point when focusing on; technical, tactical, and physical to ensure that riders are doing the correct sessions in training and focusing on the correct process goals in racing to support development.
We hope you will download and print this booklet so that you can tick off when you have achieved each section.
Development Centres (DC) are the first step on the British Cycling talent pathway, these sessions are open to all riders of certain ages, are run across each of the British Cycling regions, across multiple disciplines and are based out of British Cycling facilities. Riders can access any Development Centre anywhere across the country.
Riders who perform well and show promise at their club and in regional competition can be nominated by their club for a Regional School of Racing (RSR).
National Schools of Racing (NSR) are a new initiative developed by British Cycling, this part of the programme is designed to enable the talent development programme to turn up and down the volume of delivery on certain disciplines and genders.
What's next?
We are clear, the British Cycling Talent Development programme is only one route on a young person's journey in cycling, there are many other ways and routes for young people to be successful in cycling and life. From a British Cycling pathway perspective the next step will be the Great Britain Cycling Team.