From October 2015, British Cycling will be hosting a series of Chimp Management workshops designed to introduce the Chimp model.
Over a series of four evening courses at locations around the country, an expert team of consultants from the company established by Professor Steve Peters in 2011 will work with participants to understand the mind management tool.
Workshops one and four cover the model itself and effective communication, while there will also be focus on the teenage brain (workshop two) and improving athlete performance (workshop three).
Whether you are a coach, athlete, teacher - or just interested in Peters' work, these accessible evening workshops are a great way to take your performance to the next level.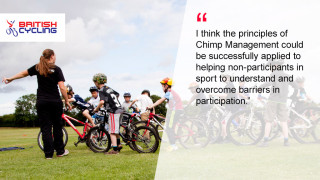 The workshops available
With each covering a specific topic, you are welcome to attend as many as you like within the series.
1. Introduction to the Chimp model
2. Understanding the teenage brain
3. Improving athlete performance through mental skills
4. Communication
Applying the model to your role
Communication and relationships with others tend to improve when we are personally in a good place.
For coaches and mentors, understanding how your mind works and learning to perform to your own aims will likely result in a more productive relationship with athletes – but this is also true across other working partnerships.
As part of each workshop, you will be challenged to look at the influence your behaviour and approach has on the mindset and performance of others.
Understanding and gaining insight into the mind of the athlete can also improve how you work together, helping the athlete to perform with a balanced quality of life. The course will help you to understand the developing teenage brain and how it is different to your own.
It's really made a big difference in the way I work with younger riders and has improved the quality of their commitment and their training"

Colin Batchelor, British Cycling Level 3 Coach
The skills you will pick up from the course can be transferred to an athlete or learner, with situations like competition day anxiety and what confidence is based on being dissected to aid rationalisation.