You can't fail to have noticed the upsurge in popularity and coverage of gravel riding but is it just about selling us more bikes or is it a cycling trend that you should be getting on board of?
What is it?
Off-road sportives have been around for a few years with riders tackling them on mountain bikes, cyclo-cross bikes or even slithering around on road bikes. However, mainly due to a burgeoning gravel scene in America, dedicated gravel or adventure bikes are now being designed and manufactured by all the big brands. With a geometry more suited to long days in the saddle than a cyclo-cross bike, clearance for bigger tyres and drillings for mudguards, bottle cages and panniers, a gravel bike is an incredibly versatile steed, equally suited to a commute as epic off-road adventures.

Without the extensive network of dirt roads found in America and our notoriously damp climate, gravel might be a slight misnomer in the UK but, with a bit of imagination, it's relatively easy to piece together exciting "gravel" routes, get away from traffic and discover trails and lanes that you'd never dare tackle on a road bike.

Gravel riding isn't really a new thing. In fact, the routes you'll probably end up riding, mirror pre-trail centre and pre-suspension mountain biking routes. However, the difference is that there are now dedicated bikes that are perfectly suited to lighter off-roading duties, mixed terrain routes and events for you to test your off-road riding fitness and skills on.
Why do it?
The biggest advantage of riding a gravel bike is the sheer variety of riding it opens up to you. Road sections aren't the soul sapping drags that they can be on a mountain bike and, when you do hit the dirt, you'll be amazed at what you can ride. This means you can put together routes that you'd probably never ride on a mountain bike, definitely wouldn't on a road bike but are perfect for a gravel bike.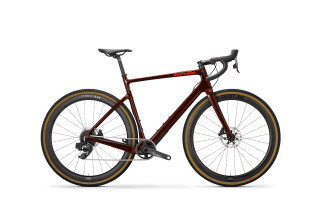 Where can you ride?
Along with all public roads apart from motorways, In England and Wales, you have the right to ride on the following public rights of way:
Bridleways
Byways Open to All Traffic
Restricted Byways
You may also ride on the following:
'Routes with other public access' – the Ordnance Survey term for 'white roads' or 'green lanes'
Unsurfaced Roads
Forestry Commission stone tracks
Some unsurfaced Forestry Commission tracks
Dedicated mountain bike trails. Many green, blue and even some red routes are fantastic fun on a gravel bike.
Cyclepaths and cycle tracks such as converted railway lines
Some Canal Towpaths
There are a number of bodies who are lobbying for increased access rights for mountain bikers in England and Wales as the current rights of way distinction between bridleways and footpaths was made long before off-road cycling even existed. The exact intricacies of the law are complex and vague but, right now, you should assume that you don't have the right to ride on footpaths and shouldn't do so.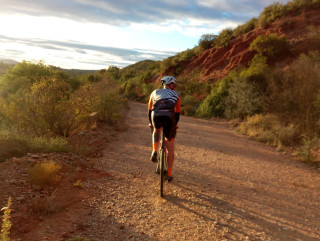 In Scotland, the Land Reform (Scotland) Act 2003 gave you some of the best access rights in the world. You have the right to be on most land and inland water for recreation, education and going from place to place, providing you act responsibly. British Cycling are also lobbying for this type of access in Wales.
Top 5 Gravel Riding Tips
Tyres
The range and variety of gravel tyres are increasing in line with the popularity of the discipline and there are now options with tread patterns more suited to UK trail conditions.

Tubeless set-ups offer a number of advantages for gravel riding. You can run lower pressures without risking pinch flats improving ride comfort and traction. Also, small penetration punctures will often seal without you knowing about them or just require a small top up of air.
Shoes/Pedals
Although you can get away with road shoes and pedals for less technical gravel rides, mountain bike shoes and pedals are probably a better bet. With recessed cleats, walking is easier if you're forced off the bike and they also clear and function far better in muddy conditions.
Gearing
As you often have to stay seated to maintain traction when climbing off-road, you'll probably opt for slightly lower gearing than on your road bike. A 1:1 bottom gear is plenty low enough and, with wide ranging 11-speed cassettes now available, you'll still have a big enough top gear for road sections. Single chainring set-ups, for simplicity and improved performance in muddy conditions, are popular on gravel bikes.
Water bottles
Traditional alloy water bottle cages will hold bottles more securely than fancy carbon ones that you may use on the road. However, for longer and muddy off-road rides, a bladder carried in a backpack might be a better option.
Skills
Both cyclo-cross and mountain biking skills can be applied to more technical gravel riding. Check out our Trail Smart and Cyclo-Cross Skills videos for some great tips.