Although at first glance a gravel or adventure bike looks very similar to a cyclo-cross bike, they are actually very different. Designed for long days tackling both road and trail but equally suited to commuting and winter training, a gravel bike is a very versatile option.
Frame Geometry
As a relatively new type of bike, gravel bike frame geometry is still evolving. Depending on the manufacturer's take on the genre and whether they have approached their design from a road, cyclo-cross or mountain bike perspective, different models will be subtly different. In general though the geometry is less aggressive than a cyclo-cross bike with a more relaxed head angle, lower bottom bracket and longer wheelbase. This results in a comfortable and sustainable riding position and more stable and predictable handling than an out and out cyclo-cross racing bike.
Wheels and tyres
Without having to conform to the 33mm UCI maximum tyre width for cyclo-cross, gravel bikes will tend to have clearance for much bigger tyres. Running standard 700c wheels, many will accommodate tyres up to 40mm. However, if that is not enough rubber for you, many models will also allow you to drop in 650b wheels and run the sort of tyre widths you would tend to associate with mountain biking.
Gravel tyres tend to have a tread pattern that offers a compromise between relatively low rolling resistance on the road and decent grip on looser off-road surfaces, although they do tend to struggle in deep mud. Tubeless set-ups are preferred as they allow you to run lower pressures. This improves grip and ride comfort but without the risk of pinch flats that comes with using tubes at low psi.

Drillings
A full-on cyclo-cross bike will have no drillings for bottles, racks or mudguards. This is fine for 45-60 minute race but not so great for an all-day or multi-day off-road ride. Gravel bikes will have a full set of drillings, many even offering three bottle cages. With the ability to easily fit proper mudguards and pannier racks, gravel bikes can easily fulfil a commuter or winter trainer role.
Brakes
It is the adoption of disc brakes for cyclo-cross and on the road that has really allowed gravel bikes to become the fat-tyre go-anywhere bikes they are. Without brake calipers, frame designers have been able to accommodate the wide tyres and generous mud clearance that define these bikes. Mid-range gravel bikes and upwards will have hydraulic disc brakes but entry level bikes will often have cable operated ones.
Gearing
Gravel bikes will have gearing that you would tend to associate with endurance/sportive focussed road bikes. This will offer lower gearing than a cyclo-cross bike but probably not as low as a mountain bike. A lowest ratio of close to 1:1 (34t chainring and 32t sprocket) is fairly standard. However, more and more gravel bikes are now using a X1 groupset with a single chainring. With this set-up a 1:1 ratio is achieved with a 42t chainring and a 42t wide range cassette.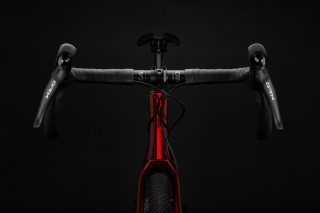 Handlebars
Although many gravel bikes will come with standard drop road handlebars, many gravel riders will swap these for wider flared drop bars that offer more control on technical descents and a greater variety of hand positions for long rides.