Knowledge Level: Intermediate
Many riders struggle on climbs or want to ride them faster. Unfortunately, there are no magic bullets to improve your uphill prowess but, with some dedication and by following these top 10 tips, anyone can ride faster when the road kicks up.
1) Bodyweight
Nobody likes to hear it, there is no quick fix and you can't just throw money at it but, if you are carrying excess weight, you are starting every climb with a major handicap. It is no coincidence that the Tour de France winning Sir Bradley Wiggins was significantly slimmer than when he dominated on the track. If you think you could do with shedding a bit of weight, follow this safe weight loss advice from the Great Britain Cycling Team nutritionists.
2) Practice
More tough love we are afraid. The more hills you climb, the better you will get at them. Many sportives tend to seek out the hilliest routes they can find and, if you avoid hills in your training, you will always struggle when the road kicks up.
The British Cycling training plans purposely schedule in hill reps and hilly rides to prepare you so don't avoid these sessions. If you live in a flat part of the country, you might be forced into riding the same climb repeatedly or even mimicking the demands of climbing on an indoor trainer.
3) Gearing
Grinding up a climb in too big a gear is not only inefficient and draining on your energy reserves, it is also slower. Even top professional riders use compact chain-sets on mountain stages, so there is certainly no shame in fitting one yourself along with a wide ranging rear cassette.
A relatively short 5-8% gradient climb might be manageable on your current setup at home but, in the Alps or Pyrenees, where that gradient can continue for 20km plus, you might need something lower. If in doubt, always opt for lower gears than you think are necessary.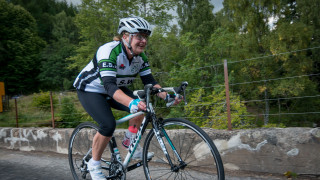 Image provided by Robin McConnell under Creative Commons licensing.
4) Pacing
Some hills are just too steep to pace and it is just a case of getting up them. However, on shallower gradients and longer climbs, whether you use heart rate or power, correct pacing is one of the main keys to climbing success. If you have followed the British Cycling training plans, you will have tested for and ridden according to either your Functional Threshold Heart Rate (FTHR) or Functional Threshold Power (FTP). The zones these figures allow you to calculate and, having learned how to pace with them in training, are invaluable for pacing long or multiple climbs.
5) Fuelling
On all long rides, whether hilly or flat, correct fuelling before and during, is essential to success. Running low on fuel always feels worse if you are going uphill and, if you haven't been eating and drinking little and often right from the beginning of your ride, you can literally come to a standstill.
Being able to effectively use and absorb the fuel you take in is linked to pacing though and, as you are likely to be working harder and potentially close to your limit on climbs, you have to fuel around them. Always try to take advantage of flats and downhills to fuel up and, if you do have to eat while climbing, be aware that you may have to back your pace off a little.
6) Climbing technique
Correct technique, including optimal use of your gears, is important for efficient climbing. Check out this video for more climbing tips.

7) Descending technique
What goes up has to come down and, if you are a nervous or poor descender, you will waste significant energy and lose time on the downhills. Improve your descending skills and not only will your overall riding speed be higher but you will also have more energy in the tank for tackling the ups.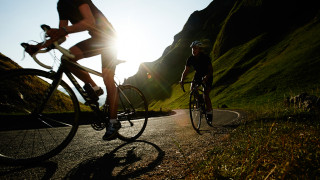 8) Group riding skills
You will often find in a sportive that groups will fragment on climbs and, as the road kicks up and speeds drop, the aerodynamic benefits of being on a wheel will reduce. You can still get a psychological boost from pacing yourself off a rider in front though and, if you have got a headwind to battle into as well as the gradient, then tucking in behind another rider makes sense.
Possessing good group riding skills can give real benefits to your climbing, with the ability to save energy on flat sections, sit comfortably in the wheels and to use the respite to fuel and recover for the next climb. If you are not relaxed in a group, you will potentially miss out on all these benefits, be wasting nervous energy and making the ride far more difficult than it needs to be.
9) Planning
On some riders' bikes you will often see route notes taped to their stems or top tubes. These notes will often detail climbs giving information on length, gradient, landmarks and where they occur within the ride. This allows the riders, especially if they haven't been able to check out the route before, to pace the climbs and know when they should be taking on fuel or trying to save some energy.
Apply the same preparation to your sportives and training. GPS file sharing has made this easy, there are plenty of forums if you want first-hand accounts and many sportive organisers provide detailed route profiles.
10) Bike, kit and clothing
It makes sense to try to minimise the weight of your bike and kit but gram shaving can easily turn into a very expensive obsession which, especially compared to the top five ways to improve your climbing, gives very little return for your investment. If you do want to buy some uphill speed, upgrading your wheels will probably give you the greatest performance gains for your money.
One of the most effective ways to ditch some weight is to minimise the fluid you have in your bottles. Again, this comes down to planning and knowing where on a ride feed stations are, and how long a climb is likely to take. You can easily shed a kilogram in this way but be careful not to leave yourself short. Be ruthless about the kit and spares you carry and, although you should never skimp so much as to potentially leave yourself stranded, many riders do carry far too much.
There aren't necessarily significant weight savings to be made from clothing but, from an energy saving perspective over a long ride, baggy or flapping kit is important to avoid. For example, if you have unzipped your jersey to keep cool on a climb, fasten it up for the descent and any flat sections. There are plenty of ways to save energy and gain free speed.
Finally, although all riders can improve their climbing ability, we will never all be mountain goats. If you are a bigger more powerful rider, consider playing to your strengths and targeting sportives, races and challenges that are more suited to you. Many of the Spring Classics, such as Paris-Roubaix, have accompanying sportives and conquering the pavé and headwinds of northern France and Belgium are just as much of an achievement as ticking off cols in the Alps and Pyrenees. Closer to home, take on some fast and flat time trials or consider giving track riding a go.