As Scott 'Boom Boom' Beaumont has been undertaking his coaching qualifications, the double World Champion has been blogging about his experiences and here is his latest blog, which describes a return to BMX at a venue he knows all too well!

Return to Scott Beaumont's home page by clicking
---
Hi all,
Well what a few weeks it has been: completion of my Level 2 coaching course in January, MTB Level 2 Coaching Award two weeks ago and now a BMX Level 2 course last weekend. With my racing season approaching fast, I wanted to make sure all of my Level 2 courses were out of the way so that I could offer coaching at some of the race events in 2012 before starting my level 3 courses in Autumn.
That plan has all come together and I have now completed the Level 2 Awards that I wanted to – Core, MTB and BMX.
BMX for me has been my whole life. I started riding a BMX when I was two and at the age of four competed in my first race – co-incidentally at Redditch. 29 years later I returned to Redditch Premiers BMX club (which is still my club) to participate in the Level 2 BMX qualification. Along with another 10 keen BMX riders and our tutors, we began the two day course to obtain the qualification.
Saturday morning was in the clubhouse/makeshift classroom. Plenty of information about the different components of a BMX bike, clothing, tracks and terminology up to lunch. Really in depth, lots of references to the BMX talent team, real scenarios and knowledge were passed on to us all.
As ever a top lunch was provided to get us all ready for the afternoon session. Then it was time to get out on the bikes, where we started in the car park with a good warm up, which was followed by a few exercises that we can do with BMX riders to get them ready for gate starts, cornering and sprinting on the track. Some great ideas for us all to use in our future sessions that's for sure!
After that we moved onto the track where we focused on the final turn and on the last straight which is a rhythm section. The cornering was great and gave everyone new knowledge on technique and the correct way to ride berms.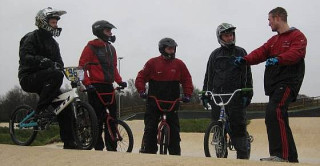 The rhythm section was again a great insight into how we were going to be coaching in the future. We used three very different riders and riding styles to show different techniques on a rhythm section and then broke them all down to identify good points and faults.
That evening we had to prepare a session for the following day's assessment. For me it was manualling – lifting the front wheel without pedalling. I came up with a good session and was looking forward to delivering it on Sunday morning...........
..........Until I woke up on Sunday to gale force winds and heavy rain! Still the show has to go on and we all arrived in the car park at 8.30 with plenty of layers on and full waterproofs! My session went really well and the group I was coaching made good progress using my coaching which I was stoked with. After talking to my assessor, I picked up a few things that I could have done better, but he agreed that it went well and I passed the assessment which was great.
After the assessments, it was back to the classroom for the final sessions, which were looking at the structure of BMX racing – how races run, what to expect and the organisation here in the UK.
Finally a quick interview with the assessors and that was the end of the weekend. I have to say, like the previous two courses, this was a fantastic weekend. If you are thinking about giving coaching a go, I cannot praise British Cycling highly enough. The courses are in-depth, full of useful information but most of all, fun and enjoyable.
I can't wait to finish my race season and get stuck into the Level 3 courses for BMX and MTB in the autumn. Between now and then I have a little bit of homework as I have to complete six sessions at my local club, but after that, look for my coaching sessions for BMX and MTB coming very soon.
I'll write some blogs in the next few weeks about the six sessions.
Till then,
SB
---
News and updates from the Coaching Team at British Cycling can also be found via our Twitter account