Megan Giglia is a full time para-cyclist for the Great Britain Cycling Team but coaching has always been a big part of her life, and her passion helps develop other riders - as well as encourage new people into the sport.
Before Megan went on to win gold at the Rio Paralympics, we spoke to her about another side of her cycling. Going into detail about her time spent in coaching Megan highlights the reasons she invests time in other people's development:
"For me coaching is very much about enjoyment," she said.
"It's about watching that person develop at the rate they want to develop at."
Inspiring more cyclists
The number of trained female coaches is on the rise with a 70% increase since 2013. Megan trained and worked as a coach before she became a professional cyclist, and remains determined to coach others:
"I can motivate and inspire others to become an athlete or just enjoy riding their bike. It's developing different skills in each person, seeing that individuality shine through.
"I would like to think that I am helping people who want to achieve and aspire to be either at my level - or higher - to preferably be beating me."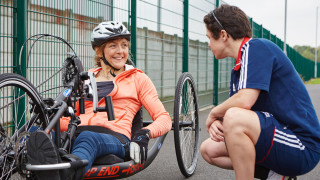 Discover a new path
It is essential that opportunities for female coaches extend even further. Working hard in this area, British Cycling's Ignite Your Coaching programme seeks mentors and qualified coaches to share their expertise.
Combining knowledge in this way helps newly qualified coaches to deliver more comprehensive sessions and will only go on to grow the female coaching network.
To find out what the network can offer you and how you can become involved, visit the Ignite Your Coaching pages.