British Cycling's policy advisor, Chris Boardman, has called on new London mayor Sadiq Khan to deliver on his promises for cycling in the capital.
Mr Khan was elected last week, and will now replace Boris Johnson – under whom London has made great strides forward as a cycling city – as mayor.
During the campaign, Mr Khan met with Mr Boardman and outlined his own proposals for cycling in London.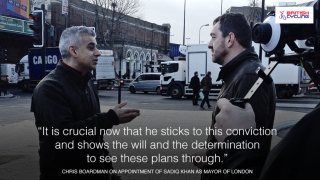 At this meeting, Mr Khan said: "I'm not just going to keep the proportion of Transport for London spending on cycling the same, I'm going to increase it. Both Boris Johnson and Ken Livingstone deserve praise for their plans for cycling, and I want to build on, and accelerate, the progress that we've made in London over the last few years."
Following Mr Khan's victory at the polls, Mr Boardman has called upon the new mayor to show the determination and conviction to turn these plans into a reality.
He said: "Sadiq Khan very kindly met with British Cycling during his election campaign, and it was both interesting and encouraging to hear his pledges for cycling in London, which included increasing the proportion of Transport for London spending on cycling.
"However, as is always the case, the proof will be in the pudding.
"Mr Khan clearly recognises the challenges which face modern, expanding cities such as London, and that cycling is a ready-made solution to some of the most pressing of these challenges. It is crucial now that he sticks to this conviction and shows the will and the determination to see these plans through."