Labour's London mayoral candidate, Sadiq Khan MP, has told British Cycling that he wants to make London 'a byword for cycling'.
Mr Khan met Chris Boardman, British Cycling's policy adviser, in London earlier this week, the first in a series of meetings that Mr Boardman will hold with mayoral candidates from across the political spectrum.
Speaking next to one of London's cycle superhighways, Mr Khan praised the work of outgoing mayor Boris Johnson, but vowed that, if elected, he would 'accelerate the progress' which has already been made.
He said: "I'm not just going to keep the proportion of Transport for London spending on cycling the same, I'm going to increase it. Both Boris Johnson and Ken Livingstone deserve praise for their plans for cycling, and I want to build on, and accelerate, the progress that we've made in London over the last few years."
Key factor
Mr Khan says that he believes cycling will be a key factor in the mayoral race, and that he wants London to be synonymous with cycling around the world, as the capital's next Mayor attempts to resolve the issues thrown up by the city's rapidly-expanding population.
He continued: "I want London to be a byword for cycling around the world – that means we've got to make it easier and safer to cycle around our city. There's no easier way to move Londoners around our city. Our population is now 8.6 million; by 2020 it's going to be 9 million and by 2030 it will be 10 million.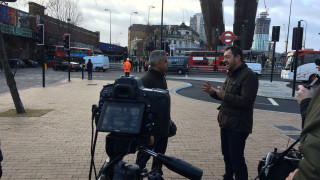 "Cycling is a cheap way to move Londoners around our great city – it's the best way to get a rising population around London."
Cycle Superhighways
During his tenure as mayor, Mr Johnson has introduced a number of Cycle Superhighways to the capital: segregated cycling routes running from outer London into and across the capital.
Mr Khan was keen to praise the impact of the existing Superhighways, but has vowed to develop both this scheme and others which have been successfully implemented in cities across the world.
"There's no other way to make it safer and easier to cycle than segregated cycle lanes. I'm going to learn the lessons from the Cycle Superhighways – I think we can do it better, and I think we can do it with less upheaval.
"I'm not precious; I want to source the best ideas from other politicians, other cities in this country and other parts of the world. We need to make sure that more Londoners feel it's safe to cycle.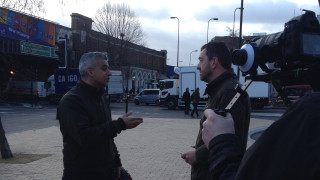 "We've got to think about HGV lorries – a disproportionate number of cyclists are hurt by HGVs, so can we think about direct vision HGV cabs; can we roll these out? Are there ways of pedestrianising our streets – could we pedestrianise Oxford Street, and have it tree-lined, right from Marble Arch to Tottenham Court Road? Look at how Paris has weekends which are car-free – can we do that in London?
"What about planning? When it comes to building new offices or new homes, can we make it a requirement to include cycle storage space? Let's work with local authorities to think about places where cyclists can park their bikes safely. We've got to think 21st century when it comes to cycling."
The London mayoral election takes place on May 5. The full list of candidates is: Sian Berry (Green Party), David Furness (British National Party), George Galloway (Respect), Paul Golding (Britain First), Zac Goldsmith (Conservative), Lee Harris (Cannabis is Safer than Alcohol), Sadiq Khan (Labour), Ankit Love (One Love Party), Caroline Pidgeon (Liberal Democrats), Sophie Walker (Women's Equality Party), Peter Whittle (UKIP), John Zylinski (Independent).