This article is aimed at holders of the British Cycling Mountain Bike Leadership Award and learners on the award pathway; however it may be of use to anyone riding with an e-MTB rider.
With the pedal-assisted bikes proving to be the fastest growing sector of UK cycle sales, the question is when (not if) MTB leaders will see an e-MTB rider in one of their groups. And on a led ride that features e-MTBs it is the leader's responsibility to deliver a flowing and enjoyable experience for the entire group: a task which is very achievable if you keep a few simple factors in mind.
The bikes are a fantastic way of opening up the outdoors to more riders - many of whom will be new to the concept of led rides and maybe even mountain biking in general. In this article, e-MTB refers to a legal, power assisted bike designed to be ridden off-road. The terms 'pedelec' and e-Bike are used prolifically, but these terms include power assisted bikes designed for road riding or commuting which may not be suited to off-road rides.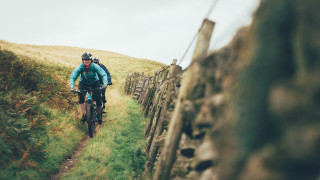 The beauty of e-MTBs is their ability to bring riders into and back to mountain biking. Riders that were previously apprehensive about long trail climbs find that not only can they manage them, but they are able to keep up with fitter riders. Also, established riders who have found themselves unable to continue riding through illness or injury have discovered that e-MTBs offer a route back into the activity they love. Both groups are likely to be highly enthusiastic about riding e-MTBs and as a MTB leader you are in a great position to guide their effort during the ride.
Aileen Brand, a keen e-MTB rider, reflects on riding to keep active whilst dealing with a long-term illness:
"Reducing the power used and increasing the length of ride I can do, I now have the confidence to go out with friends without apprehension of how far we are going or how steep the terrain is. The e-MTB has transported me back to a life of damp feet and down jackets - a life that I love."
Harnessing enthusiasm
Where appropriate, MTB Leaders should take the time to discuss the power and range of their participants' e-MTBs, double checking the charge held in the battery at the same time.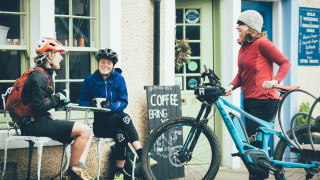 Riders should recognise that the added stability and power that come with an e-MTB can inspire confidence, but care must be taken to avoid pushing past their ability levels. The risk is that riders attempt technical challenges beyond their skill level, with the risk of incident increasing significantly.
For example, e-MTB riders must develop an awareness of which assistance mode they are in at all times. At high levels of power assistance, even a short pedal stroke can result in a significant boost of speed. This factor could result in technical features being negotiated at a higher velocity than the rider intended, with the consequences potentially being serious. For this reason, it is advisable to quickly confirm a power setting before tackling a technical section, at least until the leader is confident that the rider can manage power assistance settings consistently.
Controlling ride flow and avoiding separation
The most significant challenge when leading a group containing an e-MTB rider is controlling the flow of the ride, particularly in a group with a mix of e-MTBs and MTBs. Even at relatively low power settings, it can be a challenge to catch up with a rider who has left without a key piece of information, such as the next stopping point! This is an issue on flat ground, but becomes amplified on climbs where e-MTB riders may find they can ride slopes that other members of their group choose to push their bikes up.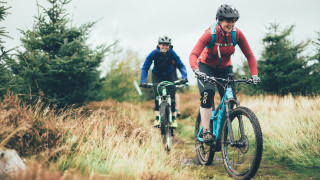 MTB Leadership award holders already possess the tools needed to manage this challenge. Clear direction to riders on where to stop next will ensure that the group stays together in most circumstances, but where flow and cohesion are critical a more decisive control measure may need to be used.
This could be as direct as the leader taking a more dominant position at the front of the group during critical sections of trail; however it could be more nuanced, such as pairing MTB and e-MTB riders to control the natural increased forward momentum of the e-MTB.
If the leader is content to do so, they should encourage riders to ride the inclines but regroup at a designated location; this has the advantage of letting each rider tackle inclines at a pace of their own choosing and can lead to them feeling more empowered.
Understanding trailside repair and guiding setup
e-MTBs are fundamentally very similar in design to MTBs, sharing most of the same mechanical systems and components with the obvious addition of an electric motor and battery. Irrespective of whether leaders choose to ride an e-MTB, they should develop a working knowledge of how e-MTBs work – on top of the trailside repairs and bike setup knowledge gained as part of courses.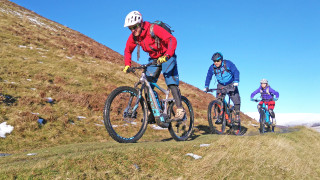 Key considerations that apply to most e-MTBs are:
Bike setup
The additional weight of the motor on e-MTBs typically sits low and central around the bottom bracket area. MTB Leaders should take the time during the pre-ride skills checks to confirm that riders new to e-MTBs are comfortable with the differences in weight shift compared to a MTB.
The additional weight of e-MTBs will often mean that the rider needs to run slightly higher tyre pressures and add more air into the forks and shocks. A rider's best source of information is the shop they bought or hired the e-MTB from, or the documentation that should come with the bike.
E-MTBs tend to have more momentum, so it is worth confirming an e-MTB rider's competence in operating their brakes. A good way to do this is with the braking exercise described in the British Cycling Level 2 MTB Leadership Course handbook.
Trailside repair
With e-MTBs being heavier than MTBs, leaders need to think about how they might improvise a workstand on the trail. For example, the tried and tested method of getting one rider to hold up the rear of the bike while another adjusts the rear mech limit screws may not be achievable due to the weight of the bike.
As with any bike, you should avoid turning it upside down to work on; better to find a horizontal object such as a low lying, sturdy tree branch to hang the e-MTB by its saddle when the rear wheel needs to be kept off the ground to conduct adjustments. For MTBs or e-MTBs equipped with a dropper seatpost, the post should be fully extended before lifting it or hanging it by the saddle.
Riders new to e-MTBs may find that slightly heavier braking is required to manage their speed, particularly when adjusting after a period riding a MTB. For this reason, it is worth checking brake pad wear during pre-ride checks, particularly if the rider has ridden in sandy or wet conditions on a regular basis.
Lifting and carrying the bike
Groups may need to lift bikes over obstacles, such as a newly fallen tree on the trail or an unexpectedly locked gate on a bridleway. It is always sensible for the leader to manage the manual handling of any bikes or equipment over such obstacles, but additional support may need to be offered to e-MTB riders.
Take care to offer this openly and proactively to all riders as anyone may be understandably reticent to ask for help in this situation. The same consideration applies to sections of trail where e-MTBs have to be carried or pushed; but it is worth noting that many e-MTBs have a 'push assist' function where controlled support can be offered from the motor to assist the rider in pushing their e-MTB up steep inclines.
Keep it legal and gain the landowner's consent
The Bicycle Association of Great Britain and the Motorcycle Industry Association have jointly emphasised that to be used legally in the UK (wherever bicycles may be used), electric mountain bikes must stick to the well-established 250 W power and 25 km/h assistance cut-off speed limits. E-MTBs are able to exceed 25km/h, but this is the point at which the assistance cuts out and any additional speed is solely due to the riders legs.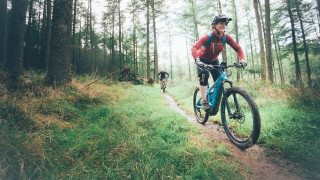 It is critical that only legal e-MTBs are used on rides led by a qualified person. It should be relatively easy to check this during the pre-ride checks that leaders will conduct, but it is worth taking the time to highlight legality to potential e-MTB riders when choosing a bike to bring on a led ride in order to avoid disappointment.
Whilst e-MTBs are able to access most of the fantastic trails the UK has to offer, it is worth checking with landowners to see if they have any special considerations for e-MTB riders. Such restrictions are usually minor, such as slightly higher fees for e-MTB riders at some trail centres to reflect the increased mileage e-MTB riders typically enjoy. Trail centres may offer battery charging facilities, but there may be a small fee for the privilege; remember that the investment it takes to provide power at some of these relatively remote trail heads is significant and the facility is probably just covering their costs.
Summary
e-MTBs are a great asset to the MTB community. Whether or not you choose to ride one yourself, they are bringing a plethora of new riders to mountain biking and have risen in popularity with existing riders. This increase in participation means more investment in kit and equipment by manufacturers and suppliers, ultimately offering all riders greater choice.

It additionally means that mountain biking will become further recognised and valued, which could mean greater investment in cycling and trails, bringing benefit to all. E-MTBs are a great way to involve everyone and provide another opportunity for leaders to make a real difference in their communities.
Thanks to Aileen Brand for her help in putting this article together (including some great photos from Trevor Worsey) and to Cyclewise for the use of their images. Cyclewise is based in the Lake District with bike hire, courses and great trails to experience e-mountain biking.