Galashiels Academy is a secondary school in the Scottish Borders which until recently had been traditional in its sports offering. In 2016 a grant became available offering funding to encourage cycling within schools.
Scottish Cycling's Christine Fox spoke to Nick Rodwell, a teacher at the school, about the difference it has made.
Nick, tell me how this all started.
Well I'm a keen biker and I knew that there was a small but passionate group of teachers at the school who also rode regularly. In 2016 we heard about a £3,000 grant from Cycling Scotland and met as a group to get our heads together and plan what we could bid for – as well as what our wider aspirations for the school were. This initial application was for six mountain bikes, helmets and course fees for the British Cycling Mountain Bike Leadership Award.
We initially got trained up as Bikeability instructors but soon moved on to the British Cycling Level 2 Mountain Bike Leadership Award, to ensure that we were adequately qualified and insured while also promoting longevity. We didn't want cycling to come and go in one term, so by getting a few people through the award we knew we would have the infrastructure to make it a sustainable offering.
Importantly, further funding from two Smarter Choices grants over time allowed the school to invest in helmets, gloves, goggles, bikes, storage, a 16-bike trailer and mobile trail features. We now also have five mechanic's work stations and all the bike maintenance equipment to go with them.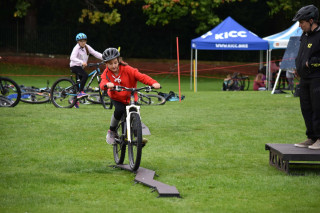 Two years later, what has Galashiels Academy achieved?
Well, it's pretty phenomenal! Second and third year pupils now have access to cycling courses as part of the formal curriculum. Classes were at capacity as soon as they were offered with 16 students in each.
We also run an annual Big Bike Bash, making the day compulsory for all pupils. Our recent event took place at the end of September and was fantastic! In the morning guest speakers from the world of biking talked about their experiences and what they had achieved. After this we split the year into practical sessions that focused on Bikeability games, trail features, racing on turbos and rollers and a bike maintenance challenge where pupils had to change an inner tube.
In the summer of 2017 three staff members completed their Velotech Silver awards with one going on to achieve Velotech Gold standard, meaning that we could offer maintenance sessions to all pupils. The results have been surprising; pupils that might not find the academic side of school life that easy can now be offered more practical skill training, meaning everyone is included and valued within the school. They now have a sense of belonging and worth.
Inclusivity is at the heart of the programme. The catchment for Galashiels Academy is very diverse and some can miss out through lack of resource. To get started cycling can be expensive so we endeavored to make it inclusive with all students being offered the chance to get involved. Right from the word go pupils from all backgrounds were interested and bringing their friends. Perhaps because the school use their own fleet of bikes, gear, gloves and helmets, everyone is on the same level playing field.
We have also noticed that many pupils coming along are not involved in other sports. Apart from a small charge when we take the minibus, the activities are free which is a great enabler and something that was made possible by the initial funding.
There is a big focus on developing a culture of cycling within the school. It is not just about competition - although there is opportunity for that too. Bikes can be used for excursions further afield with trips already having taken place to Bowhill Estate a few miles away. Glentress is next on the list, followed by Newcastleton and then - with a minibus and trailer - proper adventure beckons (to the wild and woolly Cairngorms perhaps).
There has been a notable positive behavioral change in a number of the kids, too. Before all this started no one biked into school. Now we regularly have good numbers of kids using bikes as a means of transport. In the option and curricular classes, enthusiasm has grown immeasurably; if the weather is horrendous the kids are getting greasy in bike maintenance classes and loving it. There is a real interest in the opportunities; classes are now full with a great buzz in the school and across social media.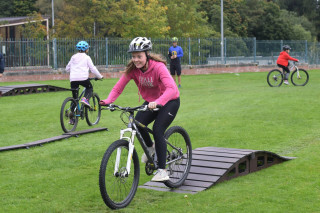 What does the future hold for Galashiels?
We hope that our model will be shared and adapted by other schools. We have been lucky with our funding applications to date but it's not finished; sustainability is key! The teachers and pupils have loads of great ideas from designing and producing their own kit (which they would sell to raise more money) to pupils getting involved in (legal) trail building, working alongside local landowners.
From an inclusivity point of view, participation in the clubs has already increased from four to nine girls, with many more now interested after our recent 'Big Bike Bash' in just this term alone! We mainly attribute this to social media activity, plus we now have two female members of staff going through the Level 2 Mountain Bike Leadership Award on a Scottish Cycling bursary*, creating all-important role models.
It would be great to see some of the pupils become advanced at bike mechanics, pulling bikes apart and putting them back together again. These are life skills linked to the Scottish Schools Curriculum for Excellence overarching themes - where skills are developed for learning and working life - and could be further enhanced with formal mechanics courses.
There are already more staff wanting to be involved as well as pupils in the senior phase of school. New ideas come from pupils and teachers alike and include increasing capacity, creating opportunities in the community, biking events, development of interschool events, inter-house competitions and organising outward bounds trips to explore further afield. It's about enjoyment, a healthy lifestyle and the mental and social benefits that brings.
Without the support of many – including Scottish Cycling, Developing Mountain Biking in Scotland (DMBinS), lots of keen supporters and of course those who have funded the programme – this would not be the success we see today. And of course there is the staff too; they have put in the hours because they have an interest, even though they are coming from subject areas as diverse as PE, CDT, science and social subjects.
Our ethos is clear: biking is for everyone, just come and have a go.
*The bursary offered by Scottish Cycling has now come to an end. Please visit britishcycling.org.uk/scotland in 2019 for details of new opportunities.