To identify the impact and potential of mountain bike leadership within the UK we arranged for an independent research study to be undertaken early in 2018, duly undertaken by KGSport.
Covering both small group qualitative responses and large scale open quantitative data gathering there was a fantastic scale of response evidencing your interest in the vital nature of this work. We are very grateful to everyone who contributed whether in person at one of the focus groups held all over the UK or through the online survey.
We expected the outcomes to inform our work in the continuing development of British Cycling's mountain bike leadership offers and to help shape the areas that leaders need to focus on in the future as the delivery landscape changes. Some of the results were reasonably predictable, but some did take us by surprise and they will all help define key aspects of our work from hereon.
You said:
You are looking for a better pathway into coaching and for that to account for your experience as a mountain bike leader.
Our response:
We are currently working up a pathway directly to the Level 2 Mountain Bike Coaching Award. Register your interest in this pathway.
You said:
Holders of other mountain bike leader qualifications are also looking for a pathway into the British Cycling mountain bike leadership scheme.
Our response:
We have generated a pathway for holders of other mountain bike leader awards to achieve the Level 3 Mountain Bike Leadership Award. Contact us for more information.
You said:
Leading groups is a year-round activity, so you are looking for a Night Leader Award to support you to deliver rides when it's dark.
Our response:
The new Night Leading Award will launch in October 2018. Contact us to be added to the expressions of interest list.
What the research also identified
Riders often have different perspectives on what they want from a ride as against what Leaders think riders are looking for; Riders often feel that Leaders are not yet consistently identifying and fulfilling their desires or needs.
This is not surprising as the two groups tend to be from different segments (as defined by the Getting Active Outdoors research). As a result, Leaders should work to orient their rides much more around the challengers and fitness in nature preferences.
As a result, the annual Mountain Bike Leader Conference includes a keynote presentation about the outcomes by the independent researcher Kelly Gordon. There will also be sessions on identifying your customer's needs and orienting your offer accordingly.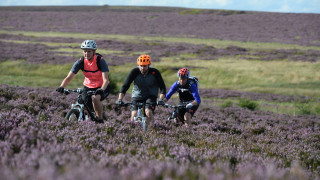 We also learned that riders place a high value on Leaders being British Cycling qualified; they recognise and value the British Cycling brand.
Qualified British Cycling Mountain Bike Leaders can access and use bespoke British Cycling leader logos.
We learned that coaches most often started out leading rides and moving into coaching from there. As well as developing the pathway for Leaders into Coaching, we are investigating how we can broaden access to the mountain bike leadership award scheme whilst making them more inclusive.
Finally, you told us that you want to know how British Cycling will give Mountain Biking and Off Road cycling an enhanced profile in future, in line with the existing participation levels and significant potential for future growth.
We have all celebrated the recent performances of the Great Britain Cycling Team mountain bike squad - showcasing the exciting future for off-road cycling and raising the profile to that traditionally enjoyed by track and road.
We are broadening our recreational programmes to cater for everyone who wants to experience cycling in the outdoors. We will identify ways to support more leaders and coaches and better support those who are most active already. We are strengthening our efforts in advocacy, working with other organisations such as OpenMTB and Cycling UK to open up the countryside for ordinary families and young people in particular, while also defending the rights of the current MTB community.
Your views are already shaping the work we do within mountain bike leadership, and how we do it. You can find out more about the research outcomes and the resulting actions we are taking at the National Mountain Bike Leader Conference.
Beyond that, you should see the actions coming to fruition over the coming months.