Extreme weather creates changes to the riding environment, where heading out mountain biking can prove more challenging after strong winds, heavy rain or snow.
Fix up, look sharp: Handy tips for mountain biking in winter
Whatever the weather, winter brings changes to the riding environment, where heading out mountain biking can prove more challenging after heavy rain or snow. Riding responsibly also comes into play, due to the fragile nature of storm-affected routes.
The storms in 2015-16 made a serious impact on the environment and mountain bikers exploring the outdoors found significant changes to trail surfaces, many of which are still inaccessible. For example, the River Greta route used to access Skiddaw in the Lake District suffered severe damage in the storms, with flooded sections and downed bridges making areas impassable.
This article provides information about how mountain bikers can reduce their impact during stormy conditions, when cycling alone or in groups. It also gives a few tips and reminders on how to tackle mud and snow; changing riding style but still getting out there!

How to lessen the impact of your rides during extreme weather
In dry conditions the erosion impact that mountain bikers have on the environment is arguably less than other users, but in wetter weather this is something to be aware of. Small adjustments can reduce this effect; follow these helpful tips to help reduce your impact on the environment:
Avoid riding on vulnerable areas (eg. peat / sensitive moorland) during periods of wet weather. These are key catchments that prevent water flowing further into valleys and basins, safeguarding natural and manmade defences to help prevent flooding.
Select trails that have a stone-based, quick draining or firm surface.
Stick to designated trails and avoid widening existing trails wherever possible.
Report fallen trees and large trail debris as soon as possible on private land to the landowner (such as Forestry Commission) or the rights of way team of the local authority (for public rights of way).
Watch out for and obey any local signage or restrictions.
Post information regarding closed or impassable trails to the other leaders and riders in your network, or on social media.

Changing your riding style
There are a number of things we can do to adjust the way we ride; a vital skill when tackling mud or snow. When it is slippery due to mud, snow or ice riding well is all about reading the terrain and being delicate and responsive. Look for the smoothest, firmest lines. The ground won't grip your tyres like they do in the dry so avoid sudden actions whether braking, turning or pedalling. These techniques are also the most sustainable way to ride and can substantially reduce your impact on the trail.
On the flats and when climbing, it helps to focus on using the whole pedal stroke to keep a smooth and continuous drive through the rear wheel.
When braking maintain a light and consistent pressure in the levers to avoid the wheel locking up; you will find that you'll need to start braking earlier to make this work. If the brakes start to lock up then releasing and squeezing them back on should help bring better stopping performance overall.
For qualified British Cycling Mountain Bike Leaders, route reconnaissance is particularly important when leading a group, so as to identify any major changes to trails in advance. If this can't be done, plan an out and back route or one with multiple escape options.
This may help to prevent situations such as the group from having no option but to retrace their steps if a path has become blocked towards the end of a circular route. The importance of this is amplified when leading a group because abilities may vary as could the kit and resources of each group member.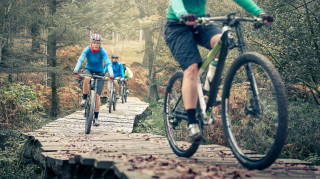 Route planning is always best carried out using a range of sources but, under changing conditions, local knowledge comes in handy. Leave some time to stop at the local bike shop or consult a local riding group to get a better insight of what awaits on the trail. Online resources can also be really useful. During last winter's storms, for example, regular updates on the Lake District's online Rights of Way notifications proved to be a useful resource for Cumbrian riders.
Keep informed with Twitter
Twitter has proved to be a useful source of information when it comes to weather, as well as an early warning system. Tweets have been used to highlight travel disruption and blocked routes, which are often a result of localised weather.
The effect of small landslides is particularly important to those who ride vulnerable, remote trails. In the past, people discovering such disturbances would have had few methods to efficiently report them, but social media now provides that conduit.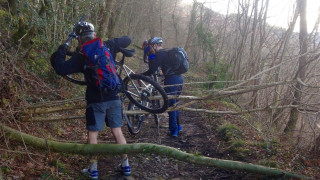 Since 2012, the value of tweets reporting landslides has been demonstrated by their inclusion on the British Geological Survey's National Landslide Database.
The Met Office (@metofficeUK) and announcements via #WeatherWatch are both useful resources, as well as localised resources dedicated to national parks and trail centres.