Knowledge Level: Intermediate
The combination of a mid-morning start, travelling to the event and the high intensity nature of the racing can make getting your race day nutrition for cyclo-cross tricky. You don't want to eat too much too close to the race and risk feeling bloated or nauseous but equally, you don't want to under perform because you have consumed too little. Fortunately, the Great Britain Cycling Team nutritionists are on hand to give you some advice.
The night before
Keep well hydrated as this will avoid you having to play catch-up in the morning which can result in needing the loo on the start line.
Eat normally, there is no need to load up with huge amounts of carbohydrates.
Avoid heavy and hard to digest red meat but instead opt for lighter proteins such as chicken or fish.
Don't overdo the fibre and steer clear of highly spiced food.
A glass of wine or a pint of beer won't be detrimental to your performance and, if you are nervous, can help you to relax but stick to just the one.
A milky hot drink can help you to relax and get to sleep.
0700
Work back from your start time and try to allow three hours for digestion. So, if your race is at 1000, eat at 0700.
Don't eat a huge amount, it is only a 30-60 minute race. Some muesli with yoghurt, a small bowl of porridge, poached eggs on toast or even a banana and oat smoothie can all work well.
A coffee can give you a bit of a boost and can help to ensure you manage to go to the loo before leaving.
Keep sipping on water or an isotonic sports drink but don't overdo it.
0800-0900
During your journey to the race, keep sipping at your water bottle.
Arriving at the Race HQ, sign on, pick up your race number, double check your race start time and get your warm-up kit on.
0920-0945
Ride your recce laps and complete your warm-up as normal, aim to finish your warm-up 10-20 minutes before the start of your race.
An energy gel, taken at the start of the warm-up, will kick in during the race. Some riders like to use a caffeinated gel but make sure you've tested this in training.
Keep sipping your drink.
The Race
With a typical cyclo-cross race only lasting between 30-60 minutes, you won't need food or drink during the race.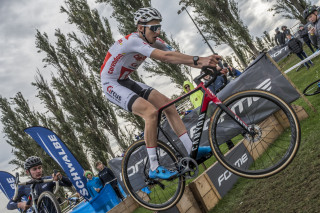 Post-Ride
What you eat post-race depends on how you feel and how near you are to lunch.
If you can stomach it and it's already around lunchtime, have your lunch as normal, making sure you have protein and carbohydrates in there. Have something like a tuna sandwich, rice and chicken or mixed peas and beans ready and waiting in your car.
If it will be an hour or more before you have your lunch, a protein recovery drink will kickstart your recovery. A good tip for cold days is to choose a chocolate flavour and make it up using a thermos of hot water.
Remember, even though your ride was hard, it won't have been that long, so there's no need to eat excessive amounts.
Check out our recipes for on and off the bike for some ideas.
SiS offer British Cycling members a 30% discount off their extensive range of products.