Published: 1 October 2021
Images: SWpix, British Cycling Photographers
Watch an elite level cyclo-cross race and the riders will make tough, technical terrain look mostly manageable, but they have honed their skills over years of training and competition – and of course still get things wrong as conditions change and fatigue sets in.
What all that experience does mean however is that the professionals are excellent sources of tips, hacks and advice that will help you to troubleshoot scenarios in your own racing and top-up your training. We asked pro riders past and present to share their ideas for improvement – plus a couple of them shared some funny fails when things haven't quite gone to plan (because this is just part of racing after all). Read to the end for these.

Nikki Brammeier
The first lap of a cyclo-cross race is always crazy, you have to be prepared to race over your limit to make that front group. Hesitation or a loss of concentration gives someone else the chance to get ahead. If you're in front after the first lap of a race there's a good chance you will still be there at the end.
Work on going over your limit on a small circuit: one lap hard, one lap recovering works great or you can get a group of your friends to race with you and push each other, fight for space. Have fun and experiment to see just how far you can push yourself. This is a great way to give you confidence come race day, too.

Cameron Mason
A good skills session I do on my days off is to find a grassy banking or muddy area then get two or three cones (bottle, sticks or jersey will do) and make a corner. I then ride it loads of times and as it gets muddier and harder, I move the cones to make the corner tighter or wider. The more you fall off the more you learn. This works even better with mates!
If it is your first time racing a cyclocross event the course might seem intimidating. To help, ride around the course a few times before your race and pay attention to the bits you might need to dismount or select a lower gear for, so when the race comes you are more prepared.

Beth Crumpton
Crashing and falling off is a completely normal thing in cyclo-cross, whether you're a pro or not. Don't let this get you down! Luckily in cyclo-cross we generally have a softer landing :)
Also, don't fall into the trap of thinking you need all the tyre choices as a beginner. A set of mud tyres will ensure you have all the grip for any course you're faced with.
Millie Couzens
Ride figure of eights in both directions and on a mixture of surfaces to get used to tight corners. It's especially hard on sand, ending up in a few crashes!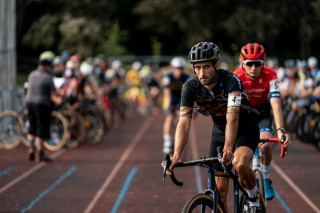 Ian Field
Use mountain bike pedals and shoes as much as possible during the 'cross season so that every junction or set of traffic lights is an opportunity to practice your start, while every time you want to dismount or remount the bike you can practice correct 'cross technique.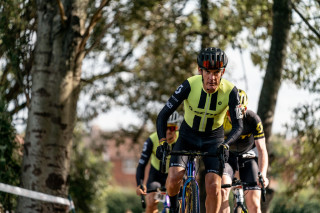 Nick Craig
Be sure to check your pedal tension on both sides. I see riders struggling to disengage, their feet falling out of the pedals, or one side tight and one side loose: not ideal! I would back the tension right off on both sides and test what that feels like, then wind in the tension, counting the clicks. Be sure to test it and adjust to find the perfect balance.

Paul Oldham
Don't always accept that the brown 'racing' line is the quickest, safest way round a course. Practice using different lines and techniques, watch other riders to see what they do right and wrong and then adapt as conditions change. Have confidence in your choices.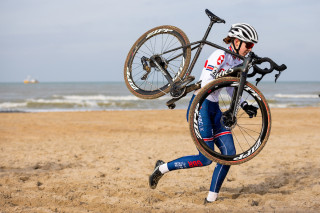 Josie Nelson
Training your body off the bike is just as important as it is on the bike so include some running and strength and conditioning sessions in the week. Plus make sure you practice getting on and off both sides of your bike, as in some cases it's faster to get off the other side.

Ffion James
Once you've committed to 'cross, invest in a pressure gauge and whenever you do practice sessions, experiment with race pressures. Don't just pump up your tyres to road pressures! Take a track pump and pressure gauge to where you are practising if you can and test out different pressures on the same section (e.g. corners/banks) to see how it feels and how low you can go.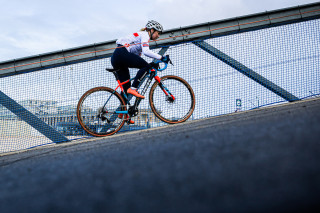 Evie Richards
My top tip is to have warm clothes waiting for you at the end of a race. Racing cross can be super cold, so I always have chocolate milk and a big coat waiting for me.
Cyclo-cross bloopers

Evie Richards
Before the start of the race when I was nervous I used to pull my shorts, then one time when I was lining up for a World Cup in Belgium I pulled my shorts and they ripped the whole way up! I had to race 45 minutes with my bum hanging out.
Nick Craig
At round one of the 2021 National Trophy in Derby during the elite/U23 race my right foot bounced out of the pedal and got stuck between my front wheel and frame (comedy moment). I'm glad nobody got this on camera after 42 years racing and 28 years on double-sided pedals. This was my fault as my pedal tension wasn't right between my two bikes and new shoes.
Ffion James
When I was racing for the win in a National Series in Shrewsbury a few years ago. I managed to ride the technical, muddy course really well all race without crashing, only to trip over whilst running along the penultimate straight - losing the win in the process!
Paul Oldham
During a very muddy National Trophy race at Bradford I ripped a rear mech off my bike. My pit helpers managed to borrow another bike for me to swap onto, but it was way too big with Euro brakes (front and rear on opposite sides) and dry tyres. To say the rest of the lap was interesting would be an understatement.
Matt Ellis – Great Britain Cycling Team Cyclo-cross Coordinator
I nearly missed my first ever cross race as a juvenile (under-16 youth these days) as I read the start time wrong in Cycling Weekly. They had to hold the start for me as I rushed to sign on and lined up all flustered. Finished second I think. It was a long time ago!