Knowledge Level: Beginner
Cycling is not only a great way for your whole family to get exercise, but can also be used to cut down on car use for short family trips and errands.
Here are some tips for a safe and successful family bike ride:
How old?
There's no legal age-limit for children cycling on the road and it really comes down to parents making a sensible decision based on their children's cycling skills, maturity and awareness of possible hazards.
For children under the age of 10, there is no criminal liability for cycling on the pavement but this doesn't mean that children always should or need to ride on it.
Younger children can ride safely on the road but, as traffic awareness doesn't really develop until 8-10 years old, children younger than this should be closely supervised.
Once they reopen, check to see if your school offers Bikeability training. Usually available towards the end of Primary or beginning of Secondary, it offers the perfect way for children to learn the essential cycling skills and road-craft necessary for independent cycling.
Basic skills
For chaperoned cycling, the basic requirements are that a child should be able to ride in a stable, predictable and controlled manner. They should be confident riding in a straight line, cornering and be able to brake and come to a halt in a controlled manner. If you are unsure about your children's cycling skill level, try some rides in traffic free environment first to determine whether you feel they'd be safe on the road.
Having younger children who aren't ready to ride on the road doesn't have to mean no family cycling fun - check out tag-alongs, trailers or even tandems.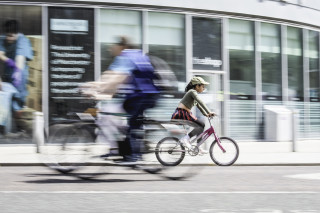 Check the bike
Make sure that your children's bikes are well maintained and safe to ride. Work through our Checking your bike is road worthy article and, if you have any doubts, contact your local bike shop.
Properly fitted
With children growing quickly, making sure that a bike fits correctly is a constant check and adjust process. Check regularly as a poorly fitting bike will not only make riding more difficult but could also effect bike handling and safety too.
Adjust saddle height so that the child's knee is slightly bent at the bottom of the pedal stroke and so that they can easily put one foot to the ground when stopped. Once the saddle is at the correct height, checked that the child can comfortable reach the handlebars and operate the brakes and gears.
It can be tempting to buy a way too big bike for a child to grow into but, if a bike is too big, the child will find it unwieldy and struggle to find a safe and comfortable riding position.
Familiar with bike
Spend some time, especially if the bike is new or if your child hasn't cycled recently, going through how the brakes work and how to use the gears. Before you head onto the road, get your child to demonstrate that they can do what you've just been through.
Route choice
Try to pick a route that avoids busy roads and complicated junctions. Take advantage of traffic free cycling routes and cycle paths but make sure, if using a shared cycle path, that your children are aware that they may encounter pedestrians.
Where can I ride?
Children's bike are often relatively heavy and so a hill that you might breeze up might be a demoralising mountain for little legs. Similarly it's easy for children to pick up excessive speed and lose control on downhills. Opt for flatter routes if possible and, in the case of hills or any other obstacles or hazards, consider getting off and walking.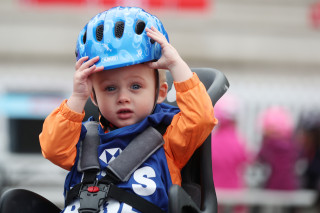 Pre-ride
After you've been through the bike checks described above and ensured helmets, shoe laces etc are all correctly secured, simply describe how, as a family, you're going to ride.
Make it clear who will cycle where, any signals or shouts you'll use and any parts of the route that they need to be aware of.
Keep this pre-ride briefing short and simple but make sure the important information is taken onboard. Get your children to repeat back the key things you've told them.
Road positioning
Who rides where will depend on the number of adults, children and their relative levels of cycling experience.
At its simplest, when an adult is riding with one other child, the adult should ride behind the child about a bike length behind. The child should be positioned towards the left hand side of the road, about 50cm from the gutter. The adult should ride slightly further out to provide a bit of a buffer to passing traffic and, if necessary, should move out further to "take the lane".
It's also perfectly acceptable, and legal, to ride side by side with the adult on the outside. Younger less experienced cyclists might find this more reassuring and, as a pair, you'll be more visible to other road users. Conversely on quiet roads the adult might decide to ride directly behind the child.
If there are two adults with one child, ride with the child in the middle following the adult ahead. Again the adult bringing up the rear can ride more to the right to prevent traffic passing too close to the child.
With more than one child and only one adult, either let the more experienced child lead or have them follow so that the adult can pay fuller attention to the less experienced cyclist.
Communication during the ride
Talk throughout the ride, asking children to give you clear warning if they're slowing down or pulling to the side of the road and explaining to them what you're doing and why.
As you'll usually be the following rider, you'll be responsible for checks over your shoulder and signalling but, as long as your child has the bike handling skills to signal and look behind, you should encourage them to look and signal too.
Find out more information about getting your kids cycling with HSBC UK Ready Set Ride. You can read our handy article on getting the most out of HSBC UK Ready Set Ride here.