Knowledge level:
Article posted: 07/08/2013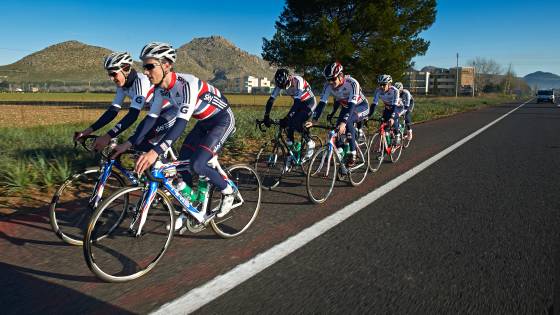 Andrew Gillott is one of the UK's top performance cycling coaches. He is employed by the UK's key sports agency to increase the knowledge and support around elite athletes in all major sports. He is also a technical expert for the UCI. In this article, Andrew looks at what happens when you miss training sessions, and the feeling of panic that can set in that all your training will be wasted.
Someone clever once said, "Good habits are worth being fanatical about" and I can't think of any field of human endeavour that this fits better than sport. A routine of training sessions, nutrition timing, recovery sessions, foam-rolling and habitual bedtimes can indeed turn fanatical and perhaps that is why it's not uncommon for cyclists to freak out when they miss a training session.
You can only miss something that you planned, so perhaps you simply shouldn't have planned a session on that particular day.
I have discussed, in a previous article how you can rearrange sessions throughout the week to maximise the potential of the workouts available to you, but the biggest fear amongst cyclists, particularly endurance cyclists, is the lack of fitness that results from missing a training session. I have met the odd laid-back soul who declares that it won't make any difference (that isn't exactly the case). In most cases however, missing a session elicits a response closer to "...that's it; I'll have to start all over again..." Fortunately, this isn't the case either.
Fitness
Hard-earned 'fitness' deteriorates at different rates. I have discussed VO2 Max and Lactate Threshold recently and you'll understand that these are important elements of your on-the-bike fitness that you should protect at all costs. Generally speaking, you will need to take a break from training of up to two weeks to see really significant decreases (as much as 20%) in your VO2 Max and a little less time than this for Lactate Threshold. Over the period of a couple of weeks you will also experience hormonal and enzymatic changes and your body will begin to 'switch back' to burning a little more carbohydrate and a little less fat as its preference.
The most immediate effects are a reduction in your blood volume, which noticeably falls within just a couple of days. As a result, your heart pumps less blood every beat, every minute and this is the reason why you feel 'unfit' after even a short break from training.
Of course, these more dramatic changes are the result of an extended break from training and missing just one session in the week will have a physiological impact that you will be unable to detect. In fact, if there is such a thing as an 'average cyclist', and you are anything like them, then I expect you will benefit from the extra rest day!
It's possible that taking a break for two or three days may require you to take it a bit easier when you return to training than you had planned, particularly with harder intervals where you might have to take a step back in duration or intensity before gradually progressing again.
Recovery
I have said it before but under no circumstances should you try to cram in training when you miss a session, or when you are pushed for time – it just eats in to your rest and recovery. A well known coach told me once about a Masters rider that she was coaching who on the face of it was managing to complete all of his mid-week two or three hour maintenance rides. It was to her horror that she discovered that to do so, he was getting up before 04:00am to ride before work...
Recovery is your most valuable weapon and giving it away can only result in further missed sessions sometime down the line. So just don't.
Breaking the habit
I think this may have the potential to be the biggest impact of missing just one or two sessions. Someone else clever once said "A man who wants to do something will find a way; a man who doesn't will find an excuse." It takes real discipline and commitment to stick to a training plan and if you miss a session, it's not uncommon for that break in the habit to put you in to a tail-spin. Remember all the hard work you've put in so far? Do you really want to go through that all over again?
Making a plan
Of course, life is wonderfully unpredictable and you can't avoid missing the occasional session but if you are frequently missing sessions then it's time to ask yourself why. After all, you can only miss something that you planned, so perhaps you simply shouldn't have planned a session on that particular day. If you aren't fortunate enough to have a coach then it falls to you to make realistic decisions about your training load, taking in to account the multitude of other commitments that you have.
If the volume of training looks right, then is there enough variation to keep you interested and motivated? Are you really enjoying it? Is it fun? Consider taking some professional advice as my experience is that when riders enjoy their training schedule and they are seeing continual improvements, they don't regularly miss sessions.
Regularly missing sessions can also be a sign of over-training, fatigue or that you feel 'stale'. If you think this may be the case for you, take a complete break from training for a week, revaluate your goals and make a new plan. Again, I would suggest that you seek professional advice if you don't already have a coach.
To summarise, missing training sessions occasionally is inevitable and won't have any discernible impact in the short-term; don't let a missed session become an excuse for missing another; if you are regularly missing sessions then it may be time to have a re-think. Or to put it another way, keep calm and carry on.
features

latest content

Tackling long climbs

Posted: 13/05/2015
Top tips for tackling long...
Knowledge level: Intermediate

most popular

How to lube your chain

Posted: 17/05/2013
How to lube your chain and keep you bike running...
Knowledge level: Beginner

meet the experts