Paralympic cyclists compete under exactly the same rules and conditions as their counterparts at the Olympic Games.
Para-cycling track events
One-kilometre time trial
The event begins with a standing start and athletes compete against the clock to complete the one-kilometre distance in the fastest time.
Tandem sprint
The first round is a 200-metre time trial, with the eight fastest pairs progressing to the knockout stages. The event then becomes a head-to-head knockout in a 'best of three' contest over three laps. This is a highly tactical 'cat and mouse' event, with riders jockeying for position before committing themselves to sprint for the line.
Team sprint
Contested over three laps of the track by two teams of three riders. Teams start at opposite sides of the track and each rider must lead for one lap. The front rider pulls out of the way at the end of each lap leaving the next rider to take over at the front. The third and final front rider sets the team time when he crosses the finishing line at the end of the third lap.
Individual pursuit (3km or 4km)
Competitors start on opposite sides of the track and attempt to catch their opponent. The four athletes with the best times in the opening round progress to the next round, where first races second fastest for gold and silver and third races fourth for bronze. If a competitor catches and passes the opponent, they win the race – although they may choose to continue, usually to try to set a record.
On the track, cyclists ride either solo or tandem bicycles.
Classes
Bicycle (C1 – C5)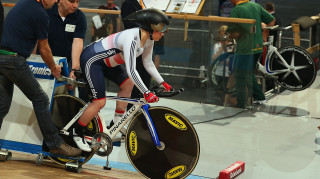 Cycling events are for those cyclists who can ride a standard bicycle. They are classified as a C1, C2, C3, C4, C5 with C1 being the most severely impaired. For example; C1 riders can be individuals with a high level of neurological impairment or multiple amputations whereas C5 riders have a neurological impairment with minimum effect or a single arm amputation.
Tandem (B)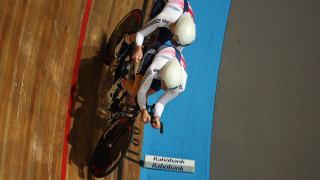 Cyclists with a visual impairment who are all classified together compete on tandem bicycles with a sighted guide or pilot rider. The level of visual impairment is variable between no light perception in either eye through to a visual acuity of 6/60 and/or a visual field of less than 20 degrees.
Factored events
Some cycling events have also been factored at competitions and this happens when cyclists from different classes compete against each other. The results take into account the severity of the impairments of each competitor and therefore, some riders within an event will have their times 'factored' while other riders do not. The gold medal goes to the athlete with the fastest time after all the required times have been factored.
For example in London 2012 factored events on the track were as follows:
C1-2-3 kilo men
C1-2-3 kilo women
C4-5 kilo men
C4-5 kilo women