Paralympic cyclists compete under exactly the same rules and conditions as their counterparts at the Olympic Games.
Road events are contested over the following maximum distances, often as a number of laps of a circuit:
B (Tandem)
B men: 120 km
B women: 100 km
C (Bicycles)
C3-5 men: 100 km
C1-2 men: 75 km
C3-5 women: 75 km
C1-2 women: 60 km
T (Tricycles)
T2 men: 40 km
T1 men: 30 km
T1-2 women: 30 km
H (Handcycles)
H3-5 men: 80 km
H1-2 men: 60 km
H5 women: 80 km
H3-4 women: 60 km
H1-2 women: 50 km
Road races have a bunched start and the first rider to cross the finishing line wins while time trial competitors start at 60-second intervals and the rider completing the distance the fastest is declared the winner. Road cyclists compete on handbicycles, tricycles, tandem bicycles or bicycles according to their functionality.
Classes
Handcycling (H1 – H5)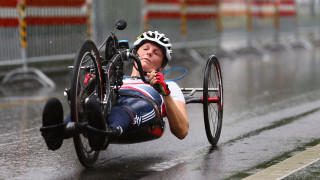 Handcycle events are for those cyclists who have paraplegia, tetraplegia or amputees unable to ride a standard bicycle. They are classified as an H1, H2, H3, H4, H5 with H1 being the most severely impaired. H1, H2, H3 and H4 cyclists will all compete in a lying position, whereas H5 cyclists compete in a kneeling position.
Tricycle (T1 – T2)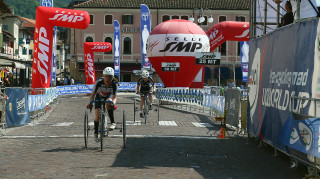 Tricycle events are for those cyclists with cerebral palsy, a neurological condition, les autres or an impairment which has a comparable effect on their ability to ride a standard bicycle. They are classified as T1 or T2 with T1 the more severely impaired.
Bicycle (C1 – C5)
Cycling events are for those cyclists who can ride a standard bicycle. They are classified as a C1, C2, C3, C4, C5 with C1 being the most severely impaired. For example; C1 riders can be individuals with a high level of neurological impairment or multiple amputations whereas C5 riders have a neurological impairment with minimum effect or a single arm amputation.
Tandem (B)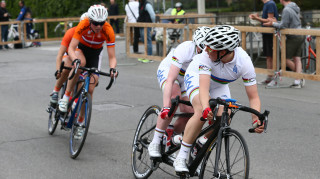 Cyclists with a visual impairment who are all classified together compete on tandem bicycles with a sighted guide or pilot rider. The level of visual impairment is variable between no light perception in either eye through to a visual acuity of 6/60 and/or a visual field of less than 20 degrees.
Factored events
Some cycling events have also been factored at competitions and this happens when cyclists from different classes compete against each other. The results take into account the severity of the impairments of each competitor and therefore, some riders within an event will have their times 'factored' while other riders do not. The gold medal goes to the athlete with the fastest time after all the required times have been factored.
For example in London 2012 factored events on the road were as follows:
H1-2 time trial women
C1-2-3 time-trial women
T1-2 time trial mixed