Cycling was introduced into the Paralympics in 1984 at the New York games for athletes with cerebral palsy (road events).
In Seoul 1988 cycling developed further when visually-impaired cyclists, who compete using tandem bicycles, were introduced with the road disciplines. Since then, cycling has continued to grow and the Paralympic programme has grown to accommodate high levels of international interest in competitive cycling.
In Barcelona 1992 different impairment classes were included in a road-only programme, then four years later in Atlanta 1996, track cycling was added to the programme. Another eight years passed until handcycling was added at Athens 2004.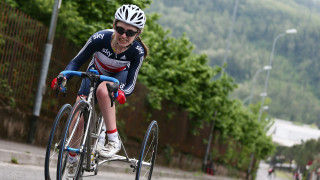 Paralympic cyclists compete under the exact same rules and conditions as their counterparts at the Olympic Games. Currently the sport includes individuals with cerebral palsy, amputations, visually impaired and any other physical impairment.
Road cyclists compete on handcycles, tricycles, tandem bicycles or bicycles according to their functionality.
On the track, cyclists ride either tandem bicycles or bicycles. Classification categories are defined by functional capacity from four impairment groups (Neurological, Locomotor, Spinal Cord Lesions and Visual impairments) creating thirteen classification groups whereby 1 represents the greatest degree of impairment and 4/5 the least.
C1-C5 for athletes with cerebral palsy, amputees, and les autres who can ride a bicycle.
T1-T2 (tricycle) for athletes with cerebral palsy, neurological condition or les autres athletes who are unable to ride a bicycle.
B for visually impaired cyclists, who are all classified together and compete on tandem bicycles with a sighted guide or pilot rider.
H1-H5 (handcycle) for riders with impairments affecting either both legs or a combination of the upper and lower limbs (amputees, paraplegics and tetraplegics). H1-4 will all compete in a lying position, whereas H5 compete in a kneeling position
The competition programme includes sprints, individual pursuits, time trials, road races and road time trials for both individuals and teams comprising in a total of seven events.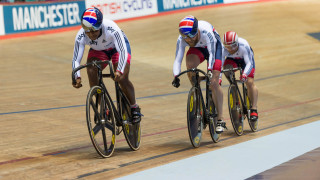 Road events
Road race (men and women)
Individual time trial (men and women)
Handcycling relay (mixed men and women
Track events
Tandem sprint (men)
Team sprint (men and women, mixed event)
500 m time trial (men and women) or 1km time trial (men and women)
Individual pursuit (men and women)
At the London 2012 Games, 225 athletes competed in 18 medal events on the track and 225 athletes competed in 32 medal events on the road.