HSBC UK Go-Ride Coach for the Eastern region and qualified Level 3 coach, Mark Wyer, shares some invaluable insight into prioritising skills when working with cyclo-cross riders.
I was working with a group of keen cyclo-cross riders recently and asked them which is the most important skill for cyclo-cross racing. A few answered dismount and remount and a couple said the start. A teenage rider who really thinks about her sport said: 'No, it's cornering'. I think she's right - especially for regional racing.
How much time could you lose in a corner? It could be about one quarter of a second, but more in muddy conditions. There are probably 20-30 corners in each lap, so that's five to six seconds per lap with a total of 30 seconds in a four-lap youth race. That could mean three to four places in a regional youth race.
If you watch the very top races then the skills that make a difference are riding muddy cambers, riding through sand and most of all decision making.
In men's international racing the skill that probably highlights the merely very good from the best is bunny hopping hurdles and step ups. It is reported that Wout Van Aert has spent the summer working on this aspect as he was seen to be weaker over hurdles than his top-ranked competitors.
So how do you choose which skills to prioritise with the riders you work with?
Consider the following steps:
Understand which events your riders want to target: Local and beginners (HSBC UK Go-Ride Racing), regional league, HSBC UK Cyclo-Cross National Trophy or HSBC UK | National Cyclo-cross Championships.
Analyse the demands for your rider's chosen events.
Determine the current strengths and weaknesses of your riders.
Work out your coaching priorities.
You may be a regular spectator or even rider at the same level of event as your riders in which case you will already have a good working knowledge of course features. If not, quiz experienced riders, watch videos of previous year's events or catch up on the social media chat.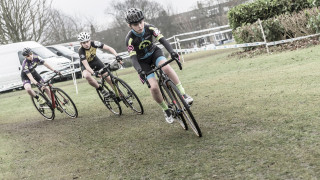 Don't assume all league races look the same. For instance, Eastern and Central league races tend to be flatter with fewer running sections than events in Yorkshire, the North East and North West. Seasons in the South East and particularly Eastern regions tend to be drier with less mud.
National-level events are more likely to have hurdles, road starts, cambered corners and become more cut up due to large fields (although regional races are fast catching up in this regard). Think of every skill your rider is likely to have to perform and list them. Give each skill a score of one to 10 where 10 is the most important for the relevant level of racing.
You may feel you know your riders well from observing them in training and racing. Perhaps make a video of them in action. It's also worth getting them to practice being self analytical.
Using the video and their own experiences, ask them to assess their ability for each skill on a score of one to 10 where 10 is as good as the best riders in their category. You can then use these scores to determine your coaching priority. In the example above whilst the rider is better at shouldering the bike, it is considered more of a priority for further work.
Your coaching priorities are simply the highest scores.
Skill

Importance of skill

Rider score

Rider gap

(10 - rider score)

Priority score =

Importance x gap

Shouldering the bike

6

5

5

30

Riding through sand

2

3

7

14
However you do have to take into account the ambitions of your riders. You may have a group of talented young riders who have aspirations of riding at international level. Some skills that are not vital to them now such as front/rear wheel lifts and bunny hops could be crucial in six to 10 years' time. This means your rider could have gained a huge advantage worth a second at every set of hurdles.
Coach 'cross
To gain the necessary skills and knowledge to start coaching this exciting and hugely rewarding part of the sport, take a look at our Level 2 Cyclo-cross Award.
You'll already need to be a Level 2 coach (or above), where building your experience in a particular discipline is the perfect goal to work to when writing out your coaching development plan.