British Cycling Policy Adviser Chris Boardman has welcomed the Prime Minister's announcement of additional funding for cycling and walking, hailing it a "step in the right direction" and applauding the commitment to 'Mini Hollands' and tough design standards.
Following soon after Friday's announcement that the Bikeability programme will be extended to every child in England, the Government has now committed to 250 miles of new, high-quality separated cycle routes and safe junctions, dozens of new Mini-Holland schemes, working with local councils to reduce lorry traffic and ensuring all new routes are built to tough new design standards.
Responding to the announcement, Boardman said:
"As always, the devil is in the detail, but this is certainly a step in the right direction and it is encouraging to see the Prime Minister picking up much of the great work he did as Mayor of London, such as tough design standards and Mini Hollands.
"We know that investment in cycling and walking has the potential to transform Britain's towns and cities into healthier, cleaner and more vibrant places to live and work, but getting there will require far more than just 250 miles of segregated lanes. We hope that this is just the start of the new Government's ambitions, and await further details of their long-term cycling programme and budget with interest."
Ahead of December's general election the Walking and Cycling Alliance (Bicycle Association, British Cycling, Cycling UK, Living Streets, Ramblers and Sustrans) urged all parties to increase spending on walking and cycling to at least 10% of the total transport budget, in order to meet the targets set the Government's own Cycling and Walking Investment Strategy.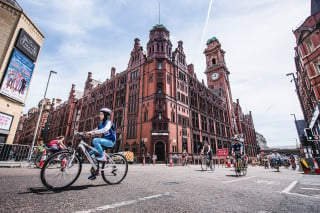 Speaking on behalf of the Walking and Cycling Alliance, Sustrans Chief Executive Xavier Brice said:
"We will of course examine the details of the funding closely to be assured that there is sufficient investment in active travel to meet the Government's Cycling Walking Investment Strategy (CWIS) but this promise of long-term funding is coming at exactly the right time.
"It has never been more important to make it easier to walk and cycle - to tackle climate change, poor air-quality, crippling congestion, and the mental and physical health of the nation. The evidence is clear and people want to do it, what has been lacking is the investment and ambition to make it safe and easy for everyone.
"The emphasis on quality infrastructure is to be applauded, and we look forward to working with national and local government, and communities across the country to ensure that this investment is the start of a real transformation in how we get around.
"Walking is an essential part of the mix along with cycling and buses. Walking is a free and accessible mode of travel, and investment in making our streets easier to walk in creates more liveable and fairer places for all of us."