Sian Berry, the Green Party's candidate for the London mayoral elections, has told British Cycling that, if elected, she will develop additional cycle superhighways in the capital.
Ms Berry met Chris Boardman, British Cycling's policy adviser, in London last week, the last in a series of meetings that Mr Boardman has held with mayoral candidates from across the political spectrum.
The meeting took place on Blackfriars Road, site of one of London's network of cycle superhighways, something which Ms Berry has pledged to fund and increase if she is elected.
She said: "We know that these new segregated superhighways are really starting to work. We've seen a 73% increase on cycling on those superhighways that are fully open, but what we expect to happen over future years is for funding to tail off.
"I've said that I will keep that funding at the level it is at the moment – around £160million a year. That will continue right through the first term, which will means that we can finish all twelve superhighways, and plan some more."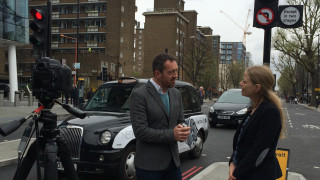 To fund the investment in cycle infrastructure, Ms Berry has proposed a more holistic approach to transport in the capital.
"All the experts agree that, if we leave things as they are, we're going to end up with gridlock in London," she said. "So I think that the economic case really stacks up. We need new, smarter congestion charging – something that is effective and raises money will leave us more than enough to fund the cycling plans. The transport plans need to all fit together and move in the same direction.
The existing cycle superhighways, which have formed part of outgoing mayor Boris Johnson's work to increase cycling levels, have faced opposition in some quarters, but Ms Berry says that continuing the work done by Mr Johnson will benefit all Londoners.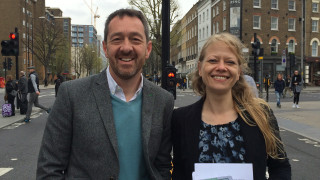 "I've been a transport campaigner for many years, and I know that cycling is one of the most efficient ways to use road space," she added. "Although there are roadworks at the moment, once they've finished and the superhighways are open, we'll see a more efficient use of the road.
"Drivers' travel times will stay the same, if not get slightly better, while we'll see many, many more people cycling, which will be good for everyone's health, as we have to do something to sort our pollution problem in London.
The London mayoral election takes place on May 5. The full list of candidates is: Sian Berry (Green Party), David Furness (British National Party), George Galloway (Respect), Paul Golding (Britain First), Zac Goldsmith (Conservative), Lee Harris (Cannabis is Safer than Alcohol), Sadiq Khan (Labour), Ankit Love (One Love Party), Caroline Pidgeon (Liberal Democrats), Sophie Walker (Women's Equality Party), Peter Whittle (UKIP), John Zylinski (Independent).