We want you to travel abroad safe in the knowledge that you, your bikes and your belongings are covered should something go wrong.
We've secured discounted rates with a leading travel insurance provider for cyclists, so you can enjoy your overseas trips without the hassle.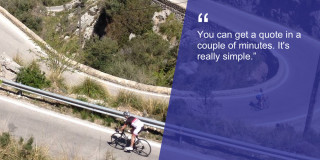 Travel insurance - learn more
Who is it available to?
What is Travel Insurance?
Travel insurance is not included with your membership, therefore, it is strongly recommended that you obtain adequate cover before you travel abroad.
You should ensure that any travel policy you obtain covers you for the activities that you are planning to undertake, especially if you are planning to take part in organised cycling events of any kind.
Comprehensive travel insurance is available for trips of up to 6 months or alternatively an annual policy can be purchased. Cover includes legal expenses and all non-hazardous holiday activities which can be extended to include a wide range of cycling disciplines including UCI backed European race events.
It is also advisable to check whether your bicycle is covered by insurance before you travel and make any necessary arrangements in this regard (see Bike insurance). Premiums vary according to geographic location and the duration of your trip.
If you are involved in a cycling incident abroad and need legal support click here.
Riding abroad - tips on health and insurance

Provided by Thistle Insurance Services Ltd. Lloyds Broker. Authorised and regulated by the Financial Conduct Authority. A JLT Group company. Registered office: The St Botolph Building, 138 Houndsditch, London EC3A 7AW. Registered in England No 00338645, VAT No. 244 2321 96. British Cycling is an Appointed Representative of Thistle Insurance Services Ltd.