We want you to travel abroad safe in the knowledge that you, your bikes and your belongings are covered should something go wrong.
We've secured discounted rates with a Bikmo, so you can enjoy your overseas trips without the hassle.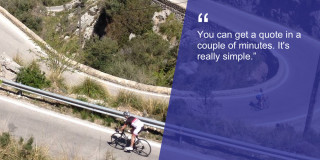 Discounted Travel Insurance - learn more
Who is it available to?
What is Travel Insurance?
Travel insurance is not included with your membership, therefore, it is strongly recommended that you obtain adequate cover before you travel abroad.
You should ensure that any travel policy you obtain covers you for the activities that you are planning to undertake, especially if you are planning to take part in organised cycling events of any kind.
Comprehensive travel insurance is available for single trips or alternatively an annual policy can be purchased.
It is also advisable to check whether your bicycle is covered by insurance before you travel and make any necessary arrangements in this regard (see Bike insurance). Premiums vary according to geographic location and the duration of your trip.
Members can save 10% with Bikmo Travel insurance. Login to display the discount code below.
If you are involved in a cycling incident abroad and need legal support click here.
Riding abroad - tips on health and insurance