Life can sometimes take a sudden turn, so its comforting to know that financial support is available if a cycling accident leaves you hospitalised or permanently injured.
Personal accident insurance provides a helping hand when it's needed most, with lump sum payments of up to £25,000 and life cover included.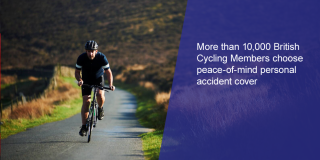 Personal accident insurance - learn more
Who is it available to?
What is Personal accident Insurance?
Personal Accident insurance cover is provided for all Race Gold members aged between five and 79 years of age. This is an additional form of insurance cover that provides cash payments if you are hospitalised overnight.
Lump sum payments are also provided for death and permanent disability but loss of earnings and medical expenses are not covered under this policy.
Who is covered?
Cover is for Race Gold members only and includes non-competitive, social, leisure and utility cycling and competitive cycling in events held under the auspices of British Cycling. Cover is also provided whilst participating in competitive events held under the auspices of other cycling organisations whose rules and regulations (including Event Safety Guidelines) are acceptable to British Cycling.
Cover includes direct travel to and from any venue for the purposes of participating in an approved event.
Benefits
Hospital cash benefit - £25 for each overnight stay up to a maximum £750 (additional £250 payable for 7 consecutive overnight stays)
Loss of two or more limbs / loss of both eyes or one of each: £25,000
Loss of one Limb / Eye or permanent loss of speech/hearing: £25,000
Permanent Total Disablement: £25,000
Death: £10,000
Who and what is not covered?
Persons under the age of 5 and over the age of 79.
Temporary or partial disablement.
Specific cycling activities: monocycling.
Occupational cycling and where the bike is a tool of trade.
Conditions
Permanent total disablement is defined as "disablement which entirely prevents the insured person from engaging in any and every occupation for which the person is fitted by way of training, education or experience" for those aged between 16 and 74. For those aged under 16 years and those aged 75 to 79 years at the date of the incident, disability is defined as "any and every" occupation.
Includes the use of dernys and electrically assisted pedal cycles which are not registered for road use
Benefits limited to £1,000 for Death and £2,500 for remaining benefits for members aged 75-79 years.
Geographical limit - worldwide subject to a maximum of 21 days per trip outside the UK.
All claims to be reported as soon as reasonably possible and in any event within 28 working days and independent evidence required that the cycle has been involved in an incident.
Whilst we are unable to provide this additional cover to members aged over 79 years and under 5 years, it is very important to remember that the essential members' liability insurance cover is still provided to all Race Gold, Race Silver and Ride members without age restriction.