Most of us look after our bikes and kit, but even the best riders can hit bad luck - from a simple pothole on a leisurely ride, to a pile up in the last kilometre of a race. With British Cycling bike insurance by Bikmo, you can ride more and worry less.
Bike insurance is not included in your membership, and it only takes seconds to get a quote - all you need is your postcode, bike values and British Cycling membership number.
The cover
Around 53.7% of claims with Bikmo are for accidental damage to bikes, and 44.9% for theft*. Both are covered with British Cycling bike insurance by Bikmo - and much more.
Here's the full list of benefits:
Benefit What it covers
| | |
| --- | --- |
| Accidental damage | From pothole damage, to carbon damage. You're covered. |
| Theft | Whilst at home and away from home, anywhere in the world. |
| Clothing + headgear | What you wear can be just as valuable as what you ride. |
| Accessories | Gadget geek? Garmin, lights etc are included. |
| 365 worldwide | Take your cover wherever and whenever you ride, worldwide. |
| Returning home | Gets you back to base if you damage your bike or it's stolen. |
| Events | Many event types are covered as standard. |
| Emergency hire | Claim for temporary hire and riding until you're sorted. |
| Family + friends | If you dare let them borrow your bike, they'll be covered too. |
| Bike box cover | Even your bike protection is… protected. |
If you take part in road racing, closed circuit racing or criterium events you can select the PROTECT-R option to extend your cover to these events. This addition also gives you £500 worth of event fee cover.
Making a claim
This is when you'll feel all the benefits at work. Making a claim with Bikmo is designed to be as painless as possible:
| | |
| --- | --- |
| 24/7 online account | You can access your account on any device 24/7. |
| Photo evidence | We all lose receipts. Luckily, photo evidence is usually sufficient evidence for claims with Bikmo. |
| Excess free option | Choose a 'Bikmo replacement' for an excess-free claim. Your bike is then ordered direct with your preferred bike shop. |
| New for old | Some insurers depreciate your bike value with age. Not here. |
Top questions, answered
Why do people choose bike insurance over home insurance?
Home insurance will often have a value limit, which could be as low as £500.
Many home insurance policies will not cover accidental damage away from home.
Home insurance may exclude events and competitions.
The excess fee may mean it doesn't make sense to claim on home insurance.
Making a claim on home insurance is likely to increase your premium.
Which events and races are covered?
The PROTECT policy option from British Cycling bike insurance by Bikmo covers a lot of events as standard, including sportives / time-trials / cyclo-cross / track / BMX / gravel / MTB XC / enduro / downhill / ultra-distance / triathlon / duathlon / biathlon / audax.
If you take part in road races, closed circuit races or crits and you want to be covered for these events, you'll need to select the PROTECT-R option when you get a quote.
What happens if I need to claim?
You can make claims online 24/7 through your British Cycling bike insurance by Bikmo online account. The bike geeks at Bikmo will then help you through the process, and the claim is usually settled within a few days.
You may be given the option of a 'Bikmo Replacement' which means Bikmo will purchase your replacements through your preferred retailer. You pay no excess fee, and it supports your local retailer.
I took out a policy before 3rd May 2019. What's different?
From 1st May 2019, British Cycling bike insurance is provided by Bikmo. If you took out a policy before this date, the cover and service will continue with the previous insurer, Cycleguard.
At British Cycling, we are always working to improve the products available. Working with Bikmo, we are pleased to offer new features and benefits not previously available and at very competitive prices.
You can see answers to more questions by visiting the British Cycling bike insurance by Bikmo support pages here.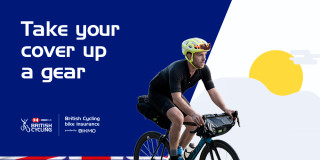 Why Bikmo?
Bikmo is a leading cycle insurance specialist run by cyclists, life-long British Cycling members, and self-confessed 'bike geeks'. Here are some of the main reasons we chose Bikmo:
Cover: Comprehensive cover backed by Hiscox, a respected underwriter.
Claims: Open with their claims records (see their Open Project).
Value: Competitive pricing on like-for-like cover.
Reputation: Voted #1 cycle insurer by Bike Radar, holds Feefo Gold Service Status for their excellent reviews and featured highly in The Telepraph.
Simplicity: Quick quotes, and easy online policy management.
The team: Experienced, all cyclists and most British Cycling members themselves.
To find out more or get a quick quote, click below, or call 01244 470551 to speak to one of the team.
* data from claims between 01/01/2019 and 31/12/2019.
British Cycling bike insurance by Bikmo is provided by Bikmo Limited.
Bikmo Limited is authorised and regulated by the Financial Conduct Authority ref: 745230.