Most of us look after our bikes and kit, but even the best riders can hit bad luck - from a simple pothole on a leisurely ride, to a pile up in the last kilometre of a race. With British Cycling bike insurance by Bikmo, you can ride more and worry less.
Bike insurance is not included in your membership, and it only takes seconds to get a quote - all you need is your postcode, bike values and British Cycling membership number.
As a British Cycling member you benefit from exclusive pricing, up to 50% multi-bike savings and up to 25% lower premium on electric bikes**.
Plus, British Cycling members are offered 14 days free cover on new bikes, so you can focus on enjoying your first miles with total peace-of-mind.
The cover
Our PROTECT policy covers you for theft and accidental damage of your bike(s), kit and accessories. Other benefits include most events, worldwide travel, £500 bike box cover and £150 returning home cover. - and much more.
For members who want cover for road racing, closed circuit racing or crit/criterium events choose PROTECT-R which also includes £500 race fee cover. (Click here for a full list of events included)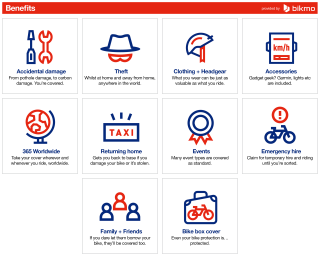 Making a claim
This is when you'll feel all the benefits at work. Making a claim with Bikmo is designed to be as painless as possible:

Why do people choose bike insurance over home insurance?
Home insurance will often have a value limit, which could be as low as £500.
Many home insurance policies will not cover accidental damage away from home.
Home insurance may exclude events and competitions.
The excess fee may mean it doesn't make sense to claim on home insurance.
Making a claim on home insurance is likely to increase your premium.
You can see answers to more questions by visiting the British Cycling bike insurance by Bikmo support pages here.
To find out more or get a quick quote, click below, or call 01244 470551 to speak to one of the team.
** subject to a minimum premium
British Cycling bike insurance by Bikmo is provided by Bikmo Limited.
Bikmo Limited is authorised and regulated by the Financial Conduct Authority ref: 745230.