We all do our best to protect our bikes from theft or accidental damage, but sometimes the unfortunate happens. With bike insurance, you can cover your valued cycling posessions against the unforseeable.
We've secured discounted rates with a leading bike insurance provider, who can give you an online quote in less than a minute.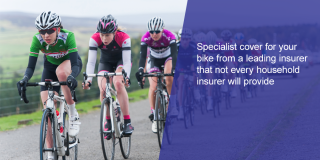 Bike insurance - learn more
Who is it available to?
All British Cycling members. Our Race Gold members receive an additional 10% discount.
What is Bike insurance?
Bike insurance is not included with your membership. However, British Cycling Bike Insurance is available from a leading specialist cycle insurance provider at preferential rates to British Cycling members.
Developed in conjunction with Cycleguard, one of the leading cycle insurance providers who have been insuring cyclists since 1998, British Cycling Bike Insurance provides members with a range of specially negotiated product benefits at preferential rates.
A flexible product that allows you to select from a range of covers including cover whilst travelling or competing in the EU and Worldwide, Race Fees cover, Additional Rider cover and more. British Cycling Bike Insurance allows you to build your product to meet your specific needs as a cyclist whether you are a commuter, racing cyclist or leisure rider.
British Cycling Bike Insurance is available to all British Cycling members and official Fans. Our Race Gold members and any members living in London receive an additional 10% discount.
Why choose British Cycling Bike Insurance?
There are a number of reasons, but our specialist bike insurance aims to offer cover that not every household insurer will provide and it is worth comparing some of those key differences:
Accidental damage to bikes is not always provided by household insurers and there can be other limitations on use and bike values
Repairs and replacements are handled through their network of independent bike stores from across the UK
A friendly, experienced, in-house claims team (not a 3rd party supplier) that pride themselves on the service they provide – even bike hire is available whilst waiting for your claim to be finalised*
Accessories cover, spare parts and race fees – just some of the additional elements of cover you would expect to find available
Exclusively negotiated pricing for all British Cycling Members and official Fans that also includes a 'multi-bike discount' of up to 15% (maximum of three bikes) and an additional 10% discount for Race Gold members
*subject to approval by the claims handling team
British Cycling Bike Insurance is a trading style of Thistle Insurance Services Limited. Thistle Insurance Services Limited is authorised and regulated by the Financial Conduct Authority. Lloyd's Broker. Registered in England under No. 00338645 Registered office: 68 Lombard Street London EC3V 9LJ. British Cycling is an Appointed Representative of Thistle Insurance Services Limited.