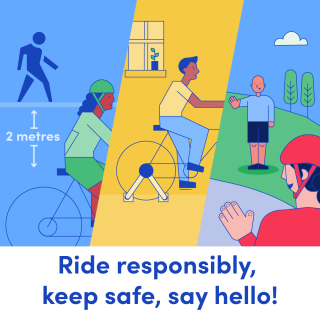 31.7.2020
We're pleased to see further restrictions being lifted after the latest Welsh Government announcement today. Our current guidelines on returning to activities for our clubs and groups still apply. But we are seeking further clarification from Government on a few points and will update next week with any further information.
Welsh Cycling Guidance & FAQ's
24.7.2020 -Watch the Webinar back, Activities may resume for some Clubs and Groups from the 25th July.
Welsh Cycling hosted its Return to activity webinar for our members last night with around 100 people partaking from across Wales to receive an update on the state of play and the return to sport facing our members in Wales.
You can watch the webinar recording here
In relation to the resumption of activities from the 25th July, this can only take place for clubs and groups if the following is in place:
A nominated COVID Officer has completed the training provided by the WSA
A COVID and activity Risk Assessment is in place
Contact details of all people involved in the activity are collected by the organiser
A maximum group size of 30
All maintaining a social distance of 2m apart (Note the 1m + rule does not apply in Wales).
Otherwise, all activity should follow the previous guidance consisting of a maximum of 2 households
Key links
Infographic for groups to use on the restrictions - 28 July 2020
Welsh Cycling Guidance & FAQ's
COVID Risk Assessment Template
Support from your local development officer
British Cycling Way Forward document
The Way Forward – additional Guidance for Breeze and Guided Rides
Good Practise Examples for a return to sport- WSA
---
21.7.2020 -Training and FAQ to support a safe return to sport.
We edge another step ready to being ready to return to action this week as the required essential COVID Awareness course provided by the Welsh Sports Association takes place from today.
This training must be undertaken by at least one person per affiliated club/ group, and Ride leaders/ Breeze champions in order to allow activity to resume in line with the new guidance issued by Welsh Government seen in our update on 15th of July. Welsh Cycling can cover the costs of two people per affiliated club/ group to undertake the training to enable a rapid and safe return to activity.
Further details on the course and how Welsh Cycling can cover this cost can be found here.
We appreciate there has been a lot of confusion around the guidelines and the regulations for the return to group cycling within Wales, so we have drafted some guidance and FAQs to help. We are also holding a webinar this Thursday evening to outline the guidance and give an update, to book your attendance click here.
The Guidance and FAQ page will be updated as and when the regulations change In addition, to help address this and to support our groups and clubs make a future return to activity we have created a FAQ webpage. This page will be updated as and when sanctions change so please check back regularly to ensure you have the very latest guidance from Welsh Cycling.
Our Development Officers are continuing to organise 1-2-1 virtual catch-ups with our affiliated clubs and groups, to arrange one with your local officer click the link below.
Welsh Cycling Return to activity FAQ's
Welsh Cycling Development Officer catch-ups
---
16.7.2020 - Update and guidance on rides and activities
Welsh Cycling received an update from the Government this week around the requirements for resuming activity in Wales, and have made a statement advising all our affiliated clubs, groups and volunteers that they cannot begin group activities yet. We are working with the Welsh Sports Association to facilitate the resumption of activities, with the aim of the 25th July. We will be communicating the necessary training and protocols for this as soon as we can through our social media channels and website.
In all other instances the two household limit remains in Wales.
Link to Welsh Cycling The Way Forward Webinar
Vitual 1-2-1 Catch up with Local Development Officers

---
15.7.2020 - Welsh Cycling Statement
The Welsh Government has this morning issued further guidance on the conditions to resume and deliver outdoor organised activities. This outlines several protocols that need to be in place before any sport can return. This includes the requirement to identify and train a responsible person and the need for risk assessments for all activities.
Welsh Cycling as the governing body in Wales wishes to provide support to its volunteers, members and clubs. As a result, we are working with the Welsh Sports Association (WSA) to enable our volunteers to access support and training from early next week with the aim of allowing sanctioned activity from the 25th July.
We will communicate with you as soon as possible with further information on how to access this training and how we will provide further support.
We appreciate this is disappointing news in light of Monday's statement, but following this course of action will ensure that we meet the regulations and the guidance set out by Welsh Government and return our sport as safely as possible.
We thank you for your continued support and patience.
Welsh Government team sport guidance here.
Welsh Government FAQs here.
Anne Adams-King - Welsh Cycling, Chief Executive Officer
---
10.7.2020 - Welsh Cycling Statement (*Updated 13.7.2020)

Welsh Cycling welcomes the latest announcement made by the First Minister of Wales today as this means we can now move to the next stage of cycling returning in Wales.
Following the announcement we want to make an important note that the following statement is an interpretation of the measures that have been outlined today. We are actively seeking further clarification on a number of points from Welsh Government and on Monday we will be in a position to further update our membership.
The regulations and guidance around exercise in Wales have now significantly changed since the last review on the 19th June, 2020. Please refer to the Welsh Government's latest information and FAQs here.
The guidance/regulations from Welsh Government around meeting outside for sport and leisure activities are as follows:
We are making changes to the regulations to allow larger gatherings outdoors of up to 30 people where these are organised and supervised by a responsible person. This will allow sports and leisure activities, such as fitness and dance classes, to take place outdoors, as well as collective worship. This will include charities, businesses, and sports clubs and a risk assessment will need to be carried out.
The key messages from the announcement today and what it means for the return of cycling in Wales are below:
Groups of up to 30 people will be able to meet outside for sport and leisure activities from the 13th July 2020, under the supervision of a responsible person and with a risk assessment. You can read the current regulations here.

Welsh Government have indicated to us that they will be releasing further information around the 'Responsible Person' expectations either this evening or tomorrow morning and how it will link with the NHS Track & Trace system.
We wanted to provide an update today, but when we receive further information from Government we will share this via social media and on this page.
The two metre social distancing measures will still need to be maintained.
The Way Forward document
Even though the 13th July date allows activity to return it is important that you only start activity when you are fully prepared and you feel it is safe and sensible to do so and when you have completed all the relevant risk assessments. Please be aware each venue will have its own risk assessment and guidelines that will need to be adhered to, some may not have these in place yet, and in addition risk assessments may need to be reviewed and accepted by the venue.
We have worked closely with British Cycling on the 'The Way Forward' document and this is now more applicable for the return of cycling in Wales, therefore we recommend that you use this as the basis of ensuring a safe return to cycling activities (including HSBC UK Breeze and recreational programmes). You can read the current document here and the latest British Cycling FAQs here.
This document is being updated in coming weeks and we will let you know of any changes. However, please read in conjunction with Welsh Government regulations and guidance.
As the National Governing Body we are asking our clubs and groups to be sensible about the number of people participating in cycling activities. The image of cycling throughout lockdown has been positive and many people have seen the benefits of what cycling can do for physical and mental health. We want our clubs and groups to continue to be ambassadors for responsible cycling.
If you have any questions please forward them onto us at Michael.Stokoe@welshcycling.co.uk or info@welshcycling.co.uk
---
22.6.2020 - Welsh Cycling update
This update looks at the implications for cycling in Wales based on recent announcements from Welsh Government and British Cycling.
As the National Governing Body for cycling in Wales, in responding to the situation that has arisen due to Coronavirus, we need to follow the regulations and guidance issued by Welsh Government. Furthermore, as we are part of British Cycling we follow their position on permitting cycling activities as a phased return of competitive and group riding is brought across the UK.
Welsh Government
The recent announcement from the First Minister of Wales on Friday, 19th June 2020 relating to the strategy of bringing Wales out of lockdown:
The regulations and guidance around exercise in Wales has not changed since the last review on the 29th May. Please refer to the Welsh Government FAQs here. The message that we have been promoting and sharing with our clubs and members remains the same:
Ride on your own or with one other household
Your ride has to start/finish at home (This may change from the 6 July, 2020) – Welsh Government regulations
Keep social distancing measure of two metres apart
Ride responsibly and within your ability.
The First Minister confirmed in his announcement that the relaxation of the 'stay local' five-mile guidance could be lifted on the 6th July IF the coronavirus is 'where they want it to be'. We will provide further updates on how this affects the return of competitive and group riding here in Wales when we have more information.
There has been a further development regarding elite athletes returning to training in Wales. Sport Wales and Commonwealth Games Wales published a press release last Friday afternoon which outlined the plan of athletes returning in a phased manner.
The key headlines are:
Elite athletes who need qualifying points for the Olympics, Paralympics and the Commonwealth Games will return first as soon as Welsh Government give the go-ahead for training to begin.
Some outdoor facilities may open but strict social distancing will remain in place coupled with the current travel restrictions and number of households limits in place.
You can read the full release here.
British Cycling's The Way Forward Document
Last week our colleagues at British Cycling provided an update on the return to cycling in the UK. You can read the document here.
Welsh Cycling contributed to this document throughout its development, but as guidance relating to social distancing differs in Wales, some of the dates and easing of activities are not applicable.
Coaching, club and group activity including Breeze leaders
With restrictions in Wales still only permitting two different households to meet up, combined with the current travel restrictions, club and group activities (including HSBC UK Breeze and recreational programmes) are difficult at the moment. We want to remind you that recreational rides are not sanctioned at the moment, so are not insured. We are continuing the preparation of guidance and when restrictions lift we will provide further information on how to start competitive and group cycling safely.
Coaching can resume as long as:
It follows the Welsh Government regulations (i.e the two household rule and within your local area)
The activity has been risk assessed
Any venue used has a risk assessment (in line with regulations from Welsh Government and advice from British Cycling) in place.
Cycling facilities / venues
There has also been an update to the Welsh Government regulations around facilities opening. From 22nd June, all outdoor sport and leisure facilities, with the exception of playgrounds and outdoor gyms are allowed to open. The type of facilities that can now re-open, subject to all other measures being met, includes outdoor velodromes. The facility operators are expected to take all necessary measures to manage risk and maintain social distancing. The restriction on gatherings of people from more than two households still applies. It is therefore more likely that activities will be on a casual basis and the facility operator's regulations will need to be adhered to.
The guidelines for our sport are changing quickly, and rest-assured we are working hard to prepare for what the next phase of the return to cycling will look like.
Should you wish to know more about Welsh Cycling Events and Series please click here. There is no change, but we are working with the Heads of Commissions to assess the situation and will share more information when we have it.
To stay up-to-date with the latest information please click here or follow us on Facebook, Twitter or Instagram for the latest news. Or to find out about our #ChooseCycling campaign here in Wales please click here.
Thank you for your continued support - please continue to ride responsibly and stay safe.
---
30.5.2020 - Welsh Cycling Update
In regard to the recent announcement from the First Minister of Wales, relating to the strategy of bringing Wales out of lockdown, Welsh Cycling understands the guidance from Monday 1st June, is as follows:
The 5 miles distance guidance for meeting people from another household applies to meeting with another household in a social context and does not change the current regulations or guidelines for exercising.
You can ride with someone from one other household, but no more than one household and you should observe all social distancing measures.
The message that we have been promoting and sharing with our clubs and members remains the same - that is to stay local, ride responsibly and within your ability.
The Welsh Government FAQs state that:
If your preferred form of exercise or leisure is one that can only be undertaken in specific locations, this still needs to be carried out locally. Examples of this might include golf, angling or water sports. If there is a place where you can do these within your local area, then you are free to do so, but it would not be permissible to drive outside your local area for these purposes.
However, we recognise there are certain forms of exercise which, though you start locally, may temporarily take you further afield. For example, a strong cyclist may get their exercise through bike rides of 40 miles or more. Exercise as a form of "active" travel in this way (a long cycle ride, run or walk) is now allowed, as long as the exercise starts and finishes from home.
That said, it is important not to risk spreading the virus by breaking that exercise and stopping or congregating with others outside your local area. Crowded places should be avoided, and social distancing should be maintained. The rules on gathering with others also mean that while you can now exercise with people from one other household, group activities are still not allowed.
We recognise that the recent announcement showed some signals that Welsh Government is preparing the country for further lockdown easing. When this happens we are asking people to choose cycling.
On Monday we will be launching a campaign across our website and social media channels called Choose Cycling, so stay tuned for further information.
---
British Cycling issued a further update on the current suspension of sanctioned cycling activity, which was due to run until 30 June 2020, which you can find here.
We have also offered an update around our Welsh Cycling events and series which you can find here
If you need to contact the team here at Welsh Cycling, contact details for our staff who are not on furlough, please click here.
---
You can read British Cycling's updated coronavirus statement here and a link to their FAQ document can be found here
Welsh Government have pulled together a FAQ document here. If you have any questions about any of the guidance outlined here please contact us at info@welshcycling.co.uk and we will then pass on your question to the Welsh Government.
We have pulled together a FAQ document with some key answers, to some key questions.
Further information is below about what this means for our Welsh Cycling members and clubs across Wales:
Event organisers:
Those organisers whose events were due to take place before June 30 will have their events manually cancelled by British Cycling via the Event Management System. Further information will be made available in due course
Welsh Cycling will work alongside these event organisers on the refund process for entered riders
Welsh Cycling will work alongside organisers to identify a way to progress the race calendar once Government advice permits racing to recommence
Those organisers whose events are due to take place after June 30 are advised that Welsh Cycling will issue further advice as and when Government guidance progresses. We appreciate that organisers will be making their own contingency plans, and may need to cancel events post-April 30 to provide certainty
For more guidance please around events, please click
here
.
Clubs:
Our recommendation to clubs is that no organised activity (including rides, training, coaching, events) should take place during this period, in line with government advice on social gatherings on non-essential travel.
We are directing Welsh Cycling staff to suspend their organised activity with clubs and groups.
You can still go out on your bike – we just recommend that you follow the latest advice with regards to hygiene and social distancing. More information in the links below.
Ride Leaders/Breeze Champions
Any British Cycling-sanctioned ride which was due to take place prior to June 30 in Wales cannot now go ahead, and will be cancelled by British Cycling.
We would urge Ride Leaders/Breeze Champions to ensure that any level of organised activity they choose to undertake away from British Cycling-sanctioned rides is in line with Government advice. Please see links below for further guidance. We will be in communication with the relevant authorities to seek additional advice on your behalf.
Race Participants:
Any participant who had paid to enter an event before June 30 will be issued with a refund in due course. We are working alongside event organisers to ensure that this process is as efficient as possible
For riders booked onto sessions in the upcoming weeks, session fees will be rolled forward to when sessions recommence.
As in other countries affected by the virus, guidance is that professional riders can continue to train, as long as Government advice is adhered to.
Education courses:
Any course scheduled to take place prior to June 30 will not now go ahead. British Cycling will arrange refunds where applicable in due course and will look to reschedule once Government advice permits activity to recommence.
Welsh Cycling recommends that clubs:
• Prioritise the health and wellbeing of all participants, coaches, volunteers and all others involved in activity.
• Keep in contact with any facility which you meet at or use as part of your activity and follow their guidance too.
• Consider your communication to club members, participants and volunteers who no longer wish to take part in activity due to health concerns. This should be accepted as a given and supported.
• Ensure that coaches and volunteers are well supported and, in a position to deliver safe activity.
• Consider overall numbers that are likely to be involved within club environments and sessions and whether you need to make any changes (e.g. splitting into smaller groups etc) to ensure risks are minimised.
• Prohibit the sharing of equipment, particularly gloves, helmets and clothing.
• If you have planned indoor activities involving large numbers of people in close proximity, consider the size of these gatherings and whether alternative approaches to training should be used.
• Consider their refund policy for club activity. If you suspend activity you are likely to be asked this question, so we recommend that you ensure your club has an agreed position and that it is clearly communicated to your members.
• Review the guidance provided by appropriate agencies regularly and update club information when required.
• Consider the risk level of any activity and the current need to reduce pressure on emergency services.
• Follow and promote the advice that has been provided by the appropriate agencies regarding the best way to minimise the risks of infection, as well as the advice provided should anyone become unwell and develop symptoms of COVID-19.
Essential contacts
Welsh Cycling offices are not on complete lockdown at the moment, but the situation is fluid at the moment. So if you need to contact a member of our team, here are a list of useful contacts who will be able to answer questions.
Chief Executive Officer
Anne Adams-King
01633 274 691 | anne.adams-king@welshcycling.co.uk
Communications & PR Officer
Michael Stokoe
07808 609 266 | michael.stokoe@welshcycling.co.uk/>
Finance & Office Manager
Beverley Kibble | finance@welshcycling.co.uk
Commercial & Partnership Manager
Mark Allen
07710 022 666 | mark.allen@welshcycling.co.uk
Events Officer
Rhys James | 07934 854 599 | events.officer@welshcycling.co.uk
Director of Performance
Matt Cosgrove | 07714 499618
matt.cosgrove@welshcycling.co.uk
Head Coach
Darren Tudor | 07515 606619
darren.tudor@welshcycling.co.uk
Useful Information
Welsh Cycling Staff Contact details - Working from home

To protect yourself and other people:
Wash your hands with soap and water often – do this for at least 20 seconds
Always wash your hands when you get home or into work
Use hand sanitiser gel if soap and water are not available
Cover your mouth and nose with a tissue or your sleeve (not your hands) when you cough or sneeze
Put used tissues in the bin straight away and wash your hands afterwards
Try to avoid close contact with people who are unwell
Do not touch your eyes, nose or mouth if your hands are not clean
Please follow all the guidance on how to avoid catching and spreading the virus, your health is first and foremost.
Welsh Cycling will continue to monitor the situation daily and will be communicating any relevant COVID-19 updates to our membership through our Facebook and Twitter channels.