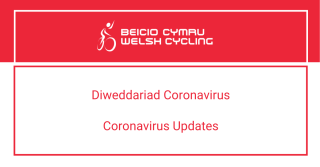 In light of the ongoing and unprecedented COVID-19 situation, sport in Wales is facing tough challenges, and to protect the jobs of our staff and to help the sport of cycling through these troubling times, Welsh Cycling will be furloughing 17 members of staff through the government's job retention scheme. This will be starting from April 14 until further notice.
CEO, Anne Adams-King said: "This was an extremely difficult decision to make, but because of the ongoing challenges cycling is facing in Wales, this step is necessary to ensure we protect the jobs of our amazing staff, but to also help protect the sport here in Wales.
"As the governing body of cycling in Wales we have to do what is right for the future of the sport, and when, alongside British and Scottish cycling the decision was made to suspend all sanctioned cycling activity until June 30 – we knew, as an organisation we would have to adapt.
"So, we've had to make this decision which will see roles across the organisation being affected. however We will be maintaining as a many services as possible with a reduced number of staff.
"Therefore, we are taking steps to protect Welsh Cycling, as well as the jobs of our employees, by using some of the measures announced by the Government in recent weeks.
"We will continue to monitor the situation and provide updates when necessary.
"We know that across Wales today many people are discovering or rediscovering the benefits of cycling for transport and for exercise, whilst adhering to the current government guidance and sticking to those social distancing rules. But we remain committed to working hard for our members, for our sport and for anyone who loves getting on a bike."
See updated staff list, below:
| | |
| --- | --- |
| Anne Adams-King | Chief Executive |
| Bev Kibble | Finance/Office Manager |
| Margaret Thomas | Office / Finance Adminstrator |
| Matt Cosgrove | Performance Director |
| Darren Tudor | Head Cycling Coach |
| Dan Coast | CDO (South Wales) |
| Laura Twohig | CDO (North Wales) |
| John Holt | Pathway Coach |
| Rob Partridge | Academy coach |
| Carys Tucker | Logistics & Admin assistant |
| Michael Stokoe | Communications & PR Officer |
| Mark Allen | Commercial & Partnership manager |
| Rachel Draper | Go Ride Coach |
| Tim Matthews | Go Ride Coach |
| Ian Jenkins | Pathway Manager |
| Georgina Harper | National Development Manager |
| Rhys James | Events Officer |
Contact details for all Welsh Cycling staff
---
See below for our revised point of contact for our furloughed staff:
Furloughed staff

Department area

New point of contact

Ann Williams (North Wales CDO)

If you have any club queries, please forward all emails to Georgina Harper.

Georgina Harper – Georgina.Harper@welshcycling.co.uk

Aled Jones (West Wales CDO)

If you have any Go Ride queries please forward all emails to Ian Jenkins

Ian Jenkins – ijenkins@welshcycling.co.uk

Sophie Williamson (Go Ride coach)

Will Soffe (Go Ride coach)

Owen Thomas (Go Ride coach)

Ali Waldron (Workforce & Safeguarding Officer)

If you have any volunteer, safeguarding or event queries please forward them onto Georgina Harper

Georgina Harper – Georgina.Harper@welshcycling.co.uk

Bethan Nesham (Volunteer co-ordinator

Sam Harrison (Equipment co-ordinator)

Gaynor Davis (Participation Officer (Women's)

If you have any development queries please forward them onto Georgina Harper

Georgina Harper - Georgina.Harper@welshcycling.co.uk

Breeze co-ordinators

If you have any performance queries please forward them onto Matt Cosgrove

Matt Cosgrove – matt.cosgrove@welshcycling.co.uk

Anthony O'Boyle (Pathway Development Coach)