British Cycling is working hard to safely reintroduce cycling events and activities in England, and on this page you can find the official guidance documents which underpin this process.
Our six-stage plan for resuming activities – called The Way Forward – has been developed in collaboration with stakeholders from across our sport and is continually being updated in light of new Government guidance. We are currently on Stage 4 of the process, and reaching Stage 6 will mark a return of all events and activities – though certain protocols may still apply.
In addition to this guidance, we have also compiled an FAQ page which covers matters including Government guidance on outdoor exercise, British Cycling membership and ranking points. You can find that page here.
Our guidance
Coaches, leaders and instructors
The process
The six-stage process we are following to reintroduce events and activities is summarised in the diagram below. You can also download a hi-res version of this document here.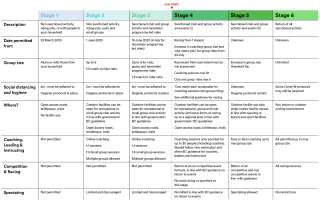 Additional support
In addition to the guidance documents above our team is regularly hosting webinars to give you the opportunity to ask any further questions you may have, and to share knowledge and ideas with others in your role.
To find out more about this, please get in touch with our Events, Clubs, Education and Facilities teams via the email addresses listed below.
External resources