Image: Ashim D'Silva
Social Cycling Toolkit
Getting out and about on the bike with likeminded people from your local community has had positive effects on the mental and physical wellbeing for thousands of people across Wales. With a focus on the social aspect, the increased safety of group riding and a non-competitive approach to being out on the bike, it's no wonder that Social Cycling's popularity is increasing throughout Wales.
As the national governing body for the cycling within Wales, Welsh Cycling are working alongside British Cycling and HSBC UK to provide more people in Wales with the opportunity to cycle. We aim to support those cycling at all levels, in order to try to help those cycling socially we have developed and collated a range of tools and information around social cycling and the development of Social Cycling groups.
This toolkit is designed to complement our Social Cycling Coffee Morning Workshops (booking details below) but may also be used independently, these are sessions designed to informally discuss the concept of Social Cycling groups. During the event we talk through the process of setting a group and planning your first few rides so that they are appropriate for your audience.
Our Workshops:
Welsh Cycling staff enjoying their workplace 'Social Cycling Coffee Morning'
Social Cycling Coffee Morning:
Welsh Cyclings 'Social Cycling Coffee Morning' is a free of charge informal morning of facilitated discussion about all things Social Cycling.
Intended as the starting place for those wishing to start a social cycling groups, we will talk through;
Knowing who your riders are or may be
Identifying some of the barriers to cycling and how you might be able to overcome these
Tips for planning appropriate routes or ride series
Posting rides to HSBC UK Ride Social
Signposting to further information: event ideas, promotion, ride leadership training
Opportunities to ask questions around the topic of recreational group cycling
By the end of the session you should be confident to create a ride that is appropriate for your organisation or community group.
All workshops may be attended free of charge, if you would like to request that a workshop be planned in your area or you would like to host a session for your organisation please contact Sam.Richards@Welshcycling.co.uk.
Route planning:
Image: rawpixel
Although covered in our workshops, route-planning can be a tough process, we have listed below a number of websites and apps that may be able to help.
Don't forget to take into consideration the needs, ability and level of kit that your group may have. Consider planning your first ride a few weeks in advance it will give people time to dust off their bike or come around to the idea. It may also be of benefit to consider a shorter distance ride to start off with, make use of cycle paths or off road circuits such as parks if available, Sustrans can help to locate cycle paths in your area.
How to 'host' your rides:
Funding from HSBC UK and British Cycling has led to the development of HSBC UK Ride Social, an online platform for people looking to ride socially with others, get back into riding or want to spend more time on their bike. Ride Social is all about putting in a few miles on your bike, meeting new people and discovering some of the best places in Wales to go for a cuppa and a slice of cake.
Once registered with www.letsride.co.uk/social you have the ability to search, join, create rides and buddy up with like-minded people within your local area. The platform offers a range of perks for ride creators, including a ride participant booking service, instant communication with riders, ride series creation, a limited liability clause and regular competitions.
The rejuvenated platform has been live since early 2017 with great success across the UK. Welsh Cycling is now supporting the program across Wales and is keen for riders of all backgrounds to join and create rides across the country.
Ride Leadership training:
There is no requirement for social cycling ride creators to attend Ride Leadership training, anyone can start using HSBC UK Ride Social by signing up online and creating a ride. Courses are accessible to those who wish to develop their ride leadership skills and experience so that they are confident to help their group progress.
Welsh Cycling are proud to be able to offer a range of Ride Leadership Training opportunities to organisations and individuals through our partners at British Cycling in order to support the continual development of Social Cycling in Wales.
There is a small charge of Ride Leadership Training, however there may be a limited number of funded places available during 2018 if you wish to attend or book a course please contact us.
Ride Leadership Level 1:
The course blends online learning with an assessed one-day course. This qualifies learners to deliver guided bike rides for groups of beginner and intermediate level adults and accompanied children on roads and cycle paths, up to a maximum distance of 50 miles.
What the course will cover
Introduction to ride leadership
Preparing to lead a ride
Delivering rides
Reviewing rides
Managing risks and emergencies
Next Steps: HSBC UK Guided rides/HSBC UK Breeze
Whilst Ride Leadership is not essential for social cycling groups or creators, having a member of your group trained as a Ride Leader is often seen as a worthwhile addition. For more information on the course details please visit https://www.britishcycling.org.uk/rideleadership.
Please Contact Sam.Richards@WelshCycling.co.uk if you would like to enquire about hosting or attending a Ride Leadership course in Wales.
First Aid:
Again, first aid is not required for ride creators wishing to create rides using HSBC UK Ride Social, it is an extra bonus in your Social Cycling arsenal to help keep participants feeling safe whilst out and about.
Those ride creators who have attended a Ride Leadership course are required to hold a valid emergency first aid certificate so that they are insured to lead rides using British Cycling's Insurance for Coaches, Leaders and Instructors.
This can be completed before or after the course though we recommend completing it before you attend the Ride Leadership Award so that, on completion of the course, you can begin leading right away.
The following elements must be present in the training:
3 hours minimum of face-to-face learning
Dealing with the wounded and bleeding
Cardiopulmonary Resuscitation
What to do in an emergency
Dealing with an unconscious casualty
To find a course in your area please check The British Red Cross or St Johns Ambulance.
Promoting your Group and Rides: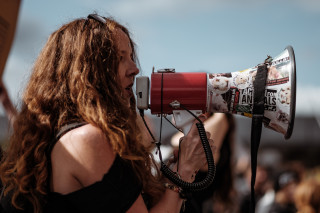 Image: Clem Onojeghuo
There are a range of methods for promoting your rides and Social Cycling Groups, by using the www.letsride.co.uk platform your rides will be instantly searchable to members of the public across the country. The website also offers a number of social media optimised images and guidance documents for you to download and use.
Welsh Cycling has put together some information to help you in the promotion and marketing of rides.
Many social cycling groups make use of their local communities, working to support local retailers, hospitality outlets and social groups can be massively influential to helping grow awareness of your group. You may also be able to gather a range of perks for you riders, from discounted cups of coffee and slices of cake to free bike rental!
If you have any individual queries regarding promotion of your rides please contact us.
Top Tips:
Below we have collated a range of top tips that have been sent in or collected by our volunteers during their rides.
Always greet your group with a smile
The best rides have the best descriptions
Network within the local community as much as possible
Start your rides in the same place, at the same time each week or month
Make sure you stop for coffee and cake
Organise a bike maintenance event with your local bike shop
Create positive feedback culture within your group
Always try to speak to everyone in the group every ride
Take a mobile phone out with you, make sure all riders have your details
Remember, it's not all about the cycling
Thank your riders for coming
Send them off with a smile
If you have any top tips that you think others may be interested in learning please let us know!
Further Information:
Our colleagues at British Cycling have produced a range of videos covering tips, hints and best practice for all levels of cycling.
Whats next?
If you feel that your social cycling group would like to progress and learn more about the wider cycling community please get in touch with us at Welsh Cycling, as all cases are different we can tailor advice to best suit your group. We are here to help.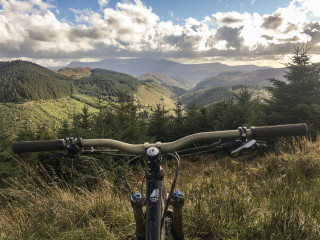 Image: Owen Street
Please get in touch if you are already out social cycling, we would love to hear about your rides and get some feedback on our resources.
Happy Riding!
Staff contact details:
Sam Richards - Participation Officer (Wales)
Email: Sam.Richards@WelshCycling.co.uk
Telephone: 07710024802
Emma White – Women and Girls Participation Officer (South Wales)
Email: Emma.White@WelshCycling.co.uk
Telephone: 07739277334
Gaynor Davis – Women and Girls Participation Officer (North Wales)
Email: Gaynor.Davis@WelshCycling.co.uk
Telephone: 07710022670