The first three women to qualify with British Cycling's Mountain Bike Leadership Award Level 3 share their stories for Women's Sport Week.
There's no doubt that trail centres have played a big part in the rising popularity of mountain biking, but we're also fortunate enough to have an extensive network of bridleways and byways in England and Wales - and open access in Scotland. These environments make it possible to have true wilderness experiences on two wheels.
To lead groups on such remote and challenging terrain, British Cycling created the Level 3 Mountain Bike Leader Award. The qualification is the gold standard, requiring that leaders already have a robust, underlying level of experience on the mountain in order to pass the exacting assessment.
This article introduces Rachael Crewsmith, Emily Horridge and Cheri Mills: the first three women to qualify as Level 3 Mountain Bike Leaders. We find out about their backgrounds, training, assessment - and how they're now using their qualification to inspire other riders.
Getting started
Both Rachael and Emily discovered cycling at an early age. Emily heard about a boy at school who rode in the local woods and immediately wanted to do the same. After months of badgering, her mother finally relented and, from her first time on the trails, Emily realised she'd found her passion.
Initially for Rachael, two wheels were a substitute for four hooves as she wasn't allowed the horse she really wanted and had to make do with making horse jumps for her bike. She only really discovered mountain biking about three years ago, but quickly found she was a natural.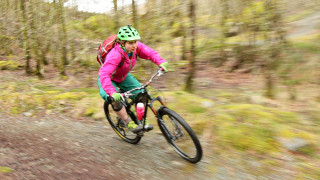 Conversely, Cheri didn't have an early start in the sport. Like many riders, she came to cycling when an injury curtailed her favourite sport at the time:
"I started off doing karate but when I ruptured the cruciate ligament in my knee, one of the guys in the club suggested I get a bike and come out riding with him and his mates," she said.
"I got my first mountain bike in 1995, started going out with a group of lads three times a week and spent about two years almost dying every time I went out!"
It's no surprise, given that the Level 3 Award is designed to teach leaders to safely operate in big mountain locations, on technical trails and away from civilisation that this is the sort of riding that the three leaders favour. Whether it's Cheri and Rachael tackling their local North Wales trails or Emily enjoying a plethora of hidden singletrack in her adopted home in the Alps:
"Nowadays I like big days out best," said Emily.
"I'm based in Les Arcs in France so that basically means setting off first thing in the morning and riding far away: up a big mountain and down the other side. I love getting away from civilisation and finding trails without loads of other people on. If a ride also involves a coffee stop at a mountain refuge, then I'm even happier!"
Trail Cycle Leadership
Having previously taken the Trail Cycle Leadership (TCL) award, the trio then all spent time building an impressive amount of experience leading groups of riders as well as honing their own riding skills. Emily took the TCL award as she'd been asked to do some women's only weeks in Morzine, Rachael as part of her job at Glenmore Lodge and Cheri to give her confidence assisting on led trips in the Swiss Alps.
As their experience increased, the leaders found they wanted to share the remote wilderness rides that they loved riding solo with their friends and clients. For Rachael, already a qualified mountaineering instructor, it was also about aligning her interests and skills:
"I wanted to progress onto the Level 3 to make sure that my knowledge was current, plus I was keen to be able to lead groups on more challenging and remote terrain," she said.
"I'm also qualified as a mountaineering instructor, which allows me to take people anywhere, so it's great to be able to take them to similar places on a bike.
"I loved learning how to lead people down more technical terrain and the idea of riding to inspire - not just riding to lead."
Time spent as Trail Cycle Leaders along with their own riding allowed each leader to develop the log book of led rides which forms a key requisite to moving onto Level 3. That time was also spent working on fitness and bike handling skills, mechanical expertise and the crucial leadership abilities of navigation and planning a ride suited to the level of the group.
A new level of leadership
Despite their considerable experience, the three leaders all felt that the Level 3 course genuinely took their leading to a new level. With its practical nature, including big days out on the bike and being instructed by highly experienced tutors, they all developed skills, knowledge and an individual flair above and beyond what they had expected. It caused Emily to review her leading style and she picked up some great techniques for assessing a client's riding style and skill level:
"It was interesting doing the Level 3 course because, although I was already a very experienced guide, I still learned many valuable lessons," she said.
"For example I always have a tendency to guide from the front and it was great to learn some different leadership styles which I'm now incorporating into my guiding.
"I also learned some new ways of gauging a client's ability and riding style before hitting really challenging terrain. This might be their bike, their clothing or how they tackled a climb: quite subtle, but invaluable information."
After taking the course and spending time practicing the skills they'd learned, the next stage was the written assignment and formal practical assessment that are necessary to gain the Level 3 Award. Taking place over two days, the first day is spent on a peer-led ride and the second involves taking turns leading a group of real clients.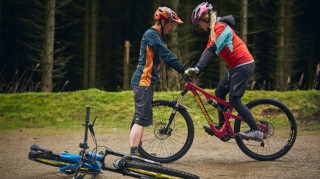 Over both days all of the key skills of a Level 3 Leader are continually assessed. These include advanced trail side repairs, navigation and the delivery of a flowing ride. It's no secret that the assessment is extremely vigorous but, as the top level leadership award, Cheri is convinced that's how it should be:
"The assessment was tough - but it has to be; if you're not up to scratch you could easily get yourself or your clients into trouble," she said.
"I just thought that every single thing we covered on the Level 3 course was relevant. We covered so many occurrences that could happen on the trail or situations you might find yourself in.
"It was challenging and I liked that; it made me feel competent, prepared and that I've got all the tools I need in my bag."
Putting the award into practice
Having each now attained their Level 3 Award, the three leaders are putting their skills and knowledge to use on the trails. Emily has spent a busy summer freelance guiding around Les Arcs and is in the process of setting up her own guiding company, The Inside Line. Rachael hopes to include more mountain biking in her role at Plas Y Brenin and has plans to guide in Scotland next year. Cheri is working at Coed Llandgela, building an impressive following for her women's only group rides and skills courses. She also wants to return to the German Swiss Alps, where she has guided in previous summers for Ride the Alps, and apply her Level 3 knowledge to some epic mountain rides.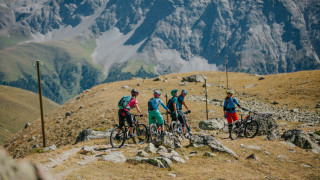 Rachael, Emily and Cheri are pioneers in achieving the Level 3 Award and an increasing number of women are following their lead and taking to the trails. Cheri, in her role at Coed Llandegla, believes that, along with positive role models at the top level of the sport, it's the provision of women only rides and courses that's really attracting new riders into the sport. She's also convinced that social media makes it far easier for new riders to communicate, organise rides and find riding buddies of a similar level, after seeing her own women-only group rides go from strength to strength.
Rachael has seen many women come into the sport, tagging along with a husband or boyfriend, but who are then put off when they are pushed to attempt trails and features above their ability. Again, she believes that women's only rides and courses are great for preventing this drop out but also that an empathetic style of leading is essential for nurturing novice riders.
"Trail selection is key for building any rider's confidence - male or female - and it's essential not to overwhelm them early on," she said.
"It's better to take someone on a trail that's maybe a bit below their ability but which flows really well and they can have an amazing day out.
"They'll feel as though they've ridden really well and will want to do it again rather than being put off and scared or even injured by a technical nightmare."
Expanding on skills
As a highly experienced guide in the Alps, Emily was invited, along with other top female riders and industry representatives, to a new event in the Swiss Alps that explored the growth of women's mountain biking and how it might continue:
"I just got back from this trip and it was amazing," she said.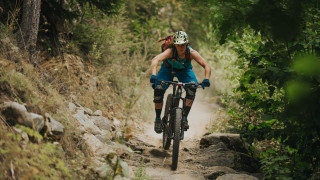 "They're trying to develop the valley around St Moritz as an international mountain biking destination and invited a group of twelve of us to come and ride. There were riders from Switzerland, USA, Britain and Sweden and included professional guides, journalists, sports psychologists and a mechanic.
"It was all about us riding and sharing ideas about how women's mountain biking could be developed.
"We were treated like kings - or should that be queens! I've never spent so much time riding with women but I really enjoyed it; there was a really relaxed vibe."
Women's sport pioneers
Emily, Rachael and Cheri are all truly inspirational - and not just because they are the first three women to gain their Level 3 qualification. What's most impressive is how motivated they are to get the most out of the award in order to share their love of mountain biking with other riders and pass on their skills.
Despite harboring even greater professional ambitions for their mountain biking, all three are doing what they love and believe that any rider would benefit from taking a Mountain Bike Leadership course. Rachael sums it up:
"If you want to learn how to look after people on the trails then the British Cycling Leadership awards are for you," she said.
"They're not about how well you ride - that should be a given - but they are about how you ride to look after others and ensure they have a safe and enjoyable time.
"Even if you didn't intend to use the qualification professionally, it would make you a better rider when you were out riding with your friends or family."
We'd like to say a big thank you to Emily, Rachael and Cheri for taking time out to share their stories with us and pass on their collective enthusiasm for mountain biking. If you have been inspired to give leadership a go, watch our short awards overview video for further insight into where to start.
The Level 3 Award was designed as a next step for leaders already qualified through a Level 2, TCL or MBLA course, with significant practical experience also a must. To learn more about the Level 3, take a look at the award description.