Mountain bike leaders perform numerous important roles when working with groups and clients, taking responsibility for navigation, wellbeing and providing a great ride – as well as looking after everything in between.
This means leaders' bags are often much bigger and heavier than their riders', with specialist kit and first aid supplies stowed away for a wide range of eventualities.
Learners attending mountain bike leadership training are often surprised by the volume of kit that you need to carry. By being well prepared however, leaders can facilitate safe and flowing rides every time they head out.
Here are seven strategies for reducing the weight of your backpack, with tried and tested advice from the field.
Trim down and test
With changeable UK weather, it's common to strip your bag down after a ride to dry equipment. This is a great time to evaluate what you carry.
For example, are there any bulky items that could be safely replaced with a smaller or lighter version? Do you have kit that hasn't been used recently and if so, can you think of a circumstance where this could safely be left behind?
Do bear in mind that some items that don't get used often such as group shelters and first aid kits always need to be carried – just in case! If you are unsure about what could be left behind, ask another leader what they think to find a safe course of action.
You may decide that everything you carry is essential, but at the very least this is a great opportunity to check that nothing is broken.
Our Trailsmart series has some great advice for general riders on what to carry, but it's worth cross-referencing with your MTB Leadership Handbook to work out what additional items are required.
Find novel ways of using kit
There is nothing better than an item of kit that serves two functions in one. A good example is a small headtorch with a retractable or elastic band as these provide light to attend to trailside repairs in dim conditions, but can also double as an emergency 'be seen' light to fix to your seatpost or handlebars where necessary. They can also be used in conjunction with the shiny side of a pegged-out thermal sheet to attract the attention of a search and rescue helicopter in an emergency.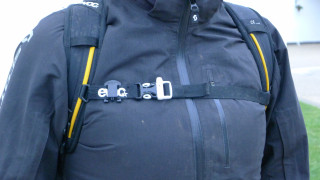 This leader's rucksack strap features a whistle to be used in case of an emergency.
Be curious about what other MTB Leaders use and see if you can shave off some grams this way. These weight and volume savings tend to be marginal, but often add up to make a significant difference.
Water vs. weight
When creating or reviewing a ride plan, note where additional food and fluids can be purchased. Stopping to top up supplies can prove a welcome break, supports local businesses and lightens your load compared to carrying all the food and drink you might require. This can leave you vulnerable however if the shop you planned to resupply at is closed, so careful planning and local knowledge goes a long way.
You could consider caching sealed supplies in quiet rural areas, but this requires preparation and can be compromised by members of the public or wildlife. Always carry a bit more food and water than you think you'll need, so that you have some supplies to hand in an emergency. And remember to leave no trace, carrying out any rubbish – including fruit peel and cores.
Distribute your kit within the group
A great option for making some serious weight savings is to distribute equipment more evenly amongst your group. This means that you will be more evenly matched in terms of effort expended and with a bit of management, you can ensure you have access to all your equipment quickly.
If riders do carry equipment that belongs to the leader, it's key to know exactly where everything is. Record this somewhere obvious in the unlikely event that you become incapacitated and one of the group has to help you; our MTB Leader Emergency Aide-Memoire is a great tool to use for this.
Whilst sharing the load is a perfectly reasonable method of reducing the weight you carry, you should retain the things you'll absolutely need close to hand, such as a first aid kit. And remember to recover all loaned kit at the end of the day before anyone leaves!
Choose your bag carefully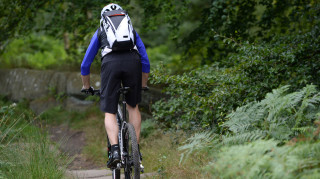 High capacity (20+ litres) bags are a great option, with plenty of room to pack additional kit in. If you do have one, don't feel like you need to fill it all the time! Well-designed backpacks will have some form of compression straps that can be cinched down on days when your load is lighter.
A poorly fitting backpack will make even light loads feel uncomfortable and cumbersome; if you take the time to find a harness system that suits your back length and shoulder width, heavier loads will be much easier to carry.
A trip to a quality bike shop is worthwhile as they will be able to offer advice, and if possible, try on the bags with a representative load to give a true indication of how they'll perform. Backpacks worn when riding tend be positioned lower on the back and rely on the waist belt for support much more than when walking so take time to adjust your bag to a suitable position for dynamic riding.
Adjust your suspension
Adding a few kilos to your bag will change your suspension set up, particular if you have rear suspension, so take the time to adjust your sag and rebound to suit. Conversely if you regularly ride with your leader bag and have a lighter load, your bike's sag and rebound may need adjustment once again. Tyre pressures may also need a minor adjustment, particularly if riding a hardtail.
Practice!
Whilst riding with a full leader backpack can be tough at first, if you ride with the same bag regularly, your fitness and strength will improve and you will cope better with the loads. You could also use the bag while walking, getting used to carrying weight while off the bike. Take any adaptations slowly and increase weight gradually to avoid injury.
And as a final incentive, studies have shown that excessive weight carriage can markedly decrease concentration levels, so by minimising the weight that you carry on your back you'll ride and lead all the better!