Our latest article introduces the National Trust's Programme Manager, Nick Walmsley, who is a qualified British Cycling Level 2 Mountain Bike Leader.
We found out why he decided to take on the award, how it ties in with his job and how the National Trust is promoting cycling.
Part 1: Biking background
Have you always been a mountain biker?
No - I started off on the road and then moved into cyclo-cross, competing in both.Those disciplines developed my fitness and I got a mountain bike to really try and improve my bike handling skills. I now do all three disciplines and enjoy them equally.
Where are your favourite trails to ride?
In my job I've travelled all over the country and I'll always take a bike with me. I've ridden most places in England and Wales, both on and off road, so I'm lucky and don't really have to have a favourite. However, if you put me on the spot, my favourite place is the Lake District.
I'm originally from the Lakes, have lived and worked there at various times in my life and I just love getting out on those Lake District hills, they're absolutely fantastic. On my road bike I'll tackle the classic passes, on my cross bike some of the forest trails and the high tops on my mountain bike. I never get tired of riding there.
Part 2: The Course
Why did you decide to take the MTB Leader award?
First and foremost it was from a professional development point of view. I believe you're never too old to learn new things, and with many courses, they remind you of all the things you've forgotten, too.
I've done a lot of cycling but it's almost all been competitive - so either racing or training. I'd like to think I'm a strong competitive cyclist with excellent fitness but that doesn't necessarily make me very good for going riding with others. I wanted to learn how to lead a group, no matter what their ability."
What did you get from the course?
I signed up to learn about mountain bike leadership and it delivered that really well - but I also got more, including a really useful refresher on bike handling skills and maintenance. I've got a lot of bikes that I maintain myself but the guys on the course showed me some great tricks and tips that I didn't know.
I did the course with CycleWise up at Whinlatter in the Lake District who do a lot of guided riding and leading as part of their business. When you're taught by a professional like that, you know they're teaching from experience. It was so much more than just working through a syllabus. I learned a very clear framework of how to lead an organised ride but so much more on top."
How did you find the course structure and final assessment?
It was really good and the timings were just about perfect. The course itself was two days which I did over a weekend - enough time to fit everything in without it feeling rushed.
I have to admit that I slightly underestimated the assessment. I thought, I've done the course, I'm an experienced rider, I'll be alright. You then turn up and it's a real test! They will fail you and they're not afraid to fail you. It's not just a case of paying your money, turning up and going for a bike ride. An army drill sergeant would have been proud of the kit check and I really felt as if I'd earned my award at the end of it. It's definitely not a box ticking exercise; pay attention on your course!"
Part 3: Cycling and the National Trust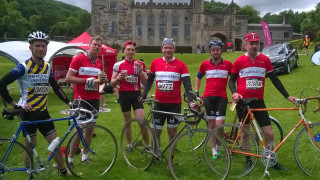 How does the award tie in with your Programme Manager role at the National Trust?
The National Trust is trying to improve opportunities for social and family cycling on our land as part of a Cycle Trail Programme. It's aimed primarily at people who wouldn't see themselves as cyclists but who ride bikes.
We're trying to create safe, traffic free environments and make it part of a wider package with parking, toilets, a café and maybe a playground for the kids. We believe we can create this in a lot of our parkland properties.
With the Cycle Trail Programme, it's important that all National Trust staff understand it fully. The best way to do this is to get them out on bikes and if I'm going to be doing this I have to be out of my competitive cyclist mindset, switch into leader mode and ensure that they have a good time. I'm so much better at this after the course. Also, having the qualification means that both myself and my employer are protected by a recognised industry standard qualification.
What is the National Trust doing with British Cycling at Badbury Hill?
We've got 10 sites in the Cycle Trail programme where Sport England is the main partner, but we're developing Badbury Hill in partnership with British Cycling. There, we're taking the concept a little further with some more technical and challenging trails.
It won't be a trail centre but will be a step up from the social and family cycling at our other sites. It'll be suitable for coaching and development, and a stepping stone to more advanced trails. It could even accommodate entry level mountain bike racing.
The Mountain Bike Leadership Award can open up a variety of different opportunities for those looking to move into the outdoors industry or add to existing skills, while also improving confidence and technique while out riding. If you'd like to explore the different levels of the award and how you can get involved, take a look at our awards overview video.

Find out more about cycling at the National Trust