In the latest in our series of articles introducing British Cycling qualified mountain bike leaders, we meet Juliet Elliott to discover how she got into cycling, why she decided to become a mountain bike leader and why she loves to ride.
Part 1: A love of all cycling
Your journey to discovering the joy of two wheels is an interesting one; can you tell us about it?
I spent several years combining modelling and pro snowboarding but when I was doing the former I would always complain bitterly about it dragging me away from the mountains.
After several years combining the two careers I joined a band and spent most of my time touring: first in a metal band playing squats and then as a guitar player and backing singer for a pop band.
After our band split up, I found myself back in London where missing the mountains and fed up with constantly rolling my ankle skateboarding, I fell for the charms of the bicycle and boy, did I fall hard!
You enjoy all types of cycling, from racing fixed gear crits to downhill mountain biking, what do you think about the tribalism that exists in the sport?
It's such nonsense! Because I ride everything I forget that sort of mindset exists but then you encounter it and it always comes as a surprise. I guess people like to belong and, by making fun of those who don't, it strengthens those feelings.
I think people need to get out of the cliques and comfort zones and try all forms of cycling. You might discover another branch of the sport you love and variety will only improve you as a rider.
If in the nightmare scenario of only being able to own one type of bike, which would it be and why?
That's a horrible question! It would depend on where I was. Imagine being stuck with a mountain bike somewhere without any trails. If it's my normal life as I live it now and I'm only allowed one, I'd probably choose my mountain bike but I'd be pretty upset about having to make that choice.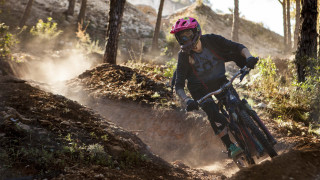 Part 2: The course
Why did you decide to do your Level 2 Mountain Bike Leadership Award?
It was mainly because I love cycling and thought it'd be fun. I'd already trained as a coach and was looking into what other options there were to further my knowledge. I didn't know about the leadership course previously but it sounded like something I could really use.
I'm a member of two cycling clubs. One is a road cycling club - Mid Devon CC - and they wanted to get more mountain bike rides going, so I thought I'd be able to take those. I'm also a member of a mountain bike club - TQ3 Riders – where I could use the qualification with them too.
How did you find the course structure and syllabus?
I really enjoyed it. The guy running it was great, I got on with everyone else on it and the structure was spot on.
You're an experienced rider, what did it teach you?
I learned loads. All the people on the course had very different backgrounds, so you drew something from everyone else's experience. For example, I know a fair amount about technique and maintenance but had little to no experience of leading rides. It was really useful being guided through exactly what you should do when leading a ride.
You're constantly putting your new skills and knowledge into practice on the course by taking out the other trainees. Areas such as health and safety, risk assessment, escape routes and how to manage a crisis were all new to me.
Has it improved your own riding?
It's definitely improved my navigating! I'm much more confident going off somewhere with a map, compass, GPX file on my Garmin and my phone.
Honestly, I now take everything - there's no way of getting lost. Before I wouldn't have taken a map and compass but having that knowledge is really reassuring and brilliant for exploring new trails."
How did you find the assessment?
I was a bit nervous beforehand; it's not just like you tick a box and pass. My biggest fear was getting everyone lost but I'd been practicing loads with my map and compass and it all went fine in the end.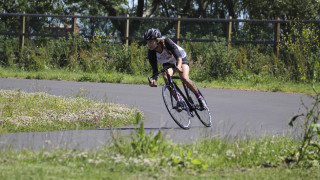 Part 3: The future
What cycling adventures have you coming up?
So much coming up! I went to Girona for a DIY training camp, then had a race every weekend for the next eight weeks but all of them were different. I race downhill, enduro, fixed gear crits and a couple of road races. The fixed gear crits are in Brooklyn, Barcelona, Milan and London and I hope to do all four.
What would you say to encourage more women onto the trails?
There are a lot more women on the trails already. Don't be scared to give it a go and don't be afraid to ask for help. All the girls I know in mountain biking are really friendly and want to help and encourage other riders. Reach out, social media is great, it's how I met some of my riding buddies.
I'd encourage more women to take the Mountain Bike Leadership Course because I know from first-hand experience that women like other women to coach them. You'll be helping other riders and, from a commercial perspective, you'll probably get a lot of work.
The Mountain Bike Leadership Award can open up a variety of different opportunities for those looking to move into the outdoors industry or add to existing skills, while also improving confidence and technique while out riding. If you'd like to explore the different levels of the award and how you can get involved, take a look at our awards overview video.
Find out more about Juliet on her site: www.bikes-n-stuff.com