Rich Martin, one of the founders of Cyclewise - which now has bases at Whinlatter and Cockermouth, shares his experiences following the devastating floods of December 2015.
Everyone in Cumbria is adjusting to things being a little different after Storm Desmond and the run of subsequent storms that hit the UK through the winter - and this is certainly a mindset that all of us here at Cyclewise are adopting. We have to think differently for 2016 and are taking every opportunity to highlight that we are still here and ready to greet visitors with open arms (and our normal Cumbrian hospitality, of course).
The much-loved mountain route used on our British Cycling Level 2 Leadership training course was overwhelmed with epic levels of water, which resulted in two bridges on the well-known coast to coast route being washed away! It's astounding to see these iron bridges casually dropped to one side, like a piece of litter on the riverbank. These are not due to be restored until late April 2016.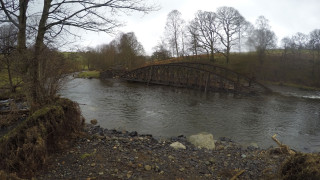 Because of this we have to recognise that although we are open for business, it's not the same Lake District we used to know and love. Nature has undoubtedly shown us all who the boss is and has left many well-loved places looking and feeling a little peculiar. It is certainly a sight you need to witness to understand the full impact on the area.
Although Desmond hit Cumbria particularly badly, there are of course lots of other areas in the UK that were significantly affected by the winter weather - including West Yorkshire and central Scotland. All of these areas are recovering by making adjustments and it could be a long road to recovery.
Leadership after a deluge
Years of delivering Mountain Bike Leadership courses as a British Cycling Tutor for Cyclewise have served me well. With all of those route planning sessions delivered to learners and time spent emphasising the need for having a back-up plan in case the situation changes, I was prepared for the worst. Having to work around the floods most certainly highlighted the importance of such measures.
Even once-idyllic parts of our Lonscale Fell journey show the scars of the floods, which in some way add extra spice to these trails. Many of our favourite guiding trails have had to be re-assessed or guided as if it's a first time descent. A descent or climb that had an obvious line choice is now often found with a new furrow running through the middle of the trail, gouged out by the nine inches of rain we received that unforgettable weekend.
Before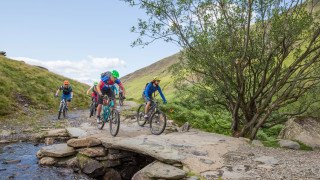 After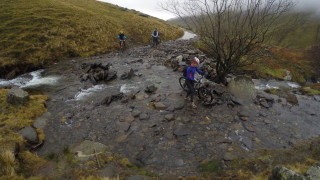 As for leading higher up in the fells, we encounter massive landslides which have clearly devastated many sections of the great singletrack our clients loved to ride. These are all still passable but might require a short carry and often a brief pause to take a photo of the epic scar left by nature. Being qualified leaders, we constantly assess whether we are working within our remit on trails that used to offer very few hazards.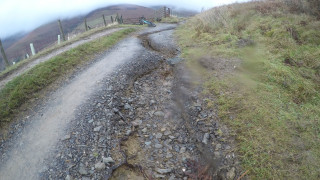 As a consequence (and as is discussed in every leadership course), we have had to find alternative routes for training and guiding that still offer quality, challenge and excitement. We have activated back-up plans that we thought we might never need, but this has proved a really valuable experience to highlight just how much the Lakes have to offer.
This process has been a rather pleasant silver lining to Storm Desmond. Our route planning has been ultra-resourceful: uncovering new nooks and crannies nestled in the corners of maps, linking trails in ways never considered and in thinking different, we have discovered almost a brand new playground awaiting our guides, clients and tourists.
Another positive side effect has been the need to get out and ride these routes to update our risk assessment documents. I think we may even have created some new Strava segments. Happy days!
Since Storm Desmond departed, Cumbrians have taken every opportunity to send the message that in Cumbria and the Lake District it is business as usual. The storm also highlighted the importance of hoping for the best but planning for the worst and it has been great to practice what we preach on our British Cycling Leadership courses, which really does work.
Thanks to Dan Cook from the Mountain Bike Leadership team at British Cycling for the opportunity to shout out for Cumbria: it is still one of the best places to ride in the UK, but just a little different to how it was pre-Desmond.