Knowledge Level: Beginner
Riders who use prohibited substances or methods to enhance their performance undermine the spirit of cycling and fair play. Additionally as a clean rider you may be disadvantaged by this which may affect your results, your earnings, your prizes, your sponsorship, your cycling profile, your motivation to train and compete and, ultimately, your enjoyment of cycling competitively.
What can you do?
You can make a stand against this and play your part in protecting our sport. If you know or suspect a rider or team may be doping then you can report this (anonymously if you wish) so that action may be taken.
If you have any information, you should call Report Doping in Sport on 08000 32 23 32. Information can also be provided by completing an online reporting form.
What is Report Doping in Sport?
Report Doping in Sport is a confidential phone line to support the fight against doping in sport. The phone line provides a service to riders, support personnel and concerned family or friends to pass on information to UK Anti-Doping about the use, possession or supply of doping substances in sport.
The phone line is hosted by Crimestoppers and you are guaranteed anonymity if you request it. All information provided by you will be researched, no matter how small or insignificant you may feel it is; it could be the missing piece of the puzzle allowing UK Anti-Doping to take action. Information received can help UK Anti-Doping to develop more effective testing strategies and to inform education and prevention programmes.
What type of information might you become aware of?
This could be anything. For example, you may:
over hear something said by a coach to a rider
see a rider have a sudden spike in their performances and results
see someone handling a suspicious package
witness a rider regularly drop out close to the finish of a race to avoid testing
be approached by a team mate to take a supplement you've never heard of
This list is not exhaustive and there could be any number of things that may cause you concern. British Cycling and UK Anti-doping's advice is to always report your suspicions. When making a report you should provide as much detail as possible to allow UK Anti-Doping to make the best use of it.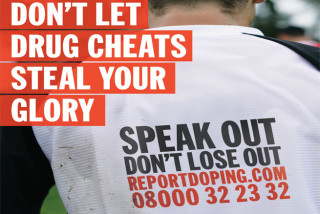 What will happen to the information you provide?
UK Anti-doping operate on the basis of the national intelligence model, they analyse information and grade it. If a number of people report similar information then that is more likely to lead to direct action being taken. Even if the only piece of information UK Anti-doping has is yours it will be stored and further investigation will be undertaken to corroborate this.
Once there is sufficient information to suggest doping related activity is taking place British Cycling and UK Anti-doping then work together to bring about an effective resolution. This will include sharing further information regarding the suspected individuals and coordinating testing both in and out of competition which may lead to findings of an Anti-doping Rule Violation and proceedings being brought against them.
Barriers
There are many barriers that may prevent you from reporting. These may include:
disbelief
undue pressure exerted on you by a team mate or coach
fear of repercussions
lack of support
the effect it may have on your cycling
British Cycling and UK Anti-doping will offer you as much support as possible in reporting information. As a rider you play an important part in ensuring cycling is clean. This can be maintained and improved by you reporting information on.
Additional support
If you are unsure about whether to report suspected doping you may wish to discuss it with someone you trust such as your family, your coach or fellow riders. Alternatively you can anonymously contact the British Cycling Anti-doping Officer on 0161 274 2082 who will discuss you concerns and support you in making a report. The Anti-doping Officer can also report your concerns on your behalf.
Key message:
Cycling has been tainted by doping in the past. British Cycling and UK Anti-doping need your help to clean up and improve the image of cycling by reporting any suspicions you may have.
For further information visit www.ukad.org.uk