Knowledge Level: Intermediate
The appeals of an overseas sportive or warm weather training camp are obvious. The sun on your back while riding, smooth roads and exotic scenery to help pass the miles. You can even factor in some poolside or beach R and R after your event and non-cycling partners or spouses tend to be a lot happier spending time soaking up the sun while you ride than when stuck at home. The big downside though is the stress and worry that can be involved with flying with your pride and joy.
Check and check again
Before getting on to actual packing the first thing to do is to check, re-check and check again the policy regarding bikes of the airline you are travelling with. The golden rule is to assume nothing and to make sure you are armed with a printed copy of the policy with you at check-in. Expect to pay a surcharge on most airlines but this is usually reduced if you book and pay for it in advance. If there is no charge listed on the website, don't assume that your bike will travel for free. Ring up, double check their policy and request e-mail confirmation.
Next, check that your bike will be covered by your travel insurance should it go walkabout. You'll find that most non-specialist companies offer an amount that would barely cover a set of decent wheels let alone a complete bike. For piece of mind it's worth paying extra to cover it as a named item or to find a specialist company who will cover it fully. Also, check your policy should the bike be damaged in transit as the maximum compensation paid by airlines is often laughably low.
Hard vs Soft
Soft bike bags tend to be cheaper and lighter. With sympathetic packing it is possible to protect your bike fairly well and some people argue that baggage handlers will show more respect to an easier to handle soft bag. Some soft bags also include an internal frame that provides more support, protection and stability. For true piece of mind though a hard bike case is a far better option.
Look for the following features:
Compression resistant: As a rule of thumb you should be able to stand on your box without it deforming (try doing this with a soft bag!). With a few 20 kg bags stacked on top of it in the hold, being able to withstand your weight is the very least it should be able to take.
Size and weight: Size wise the box should be big enough to take the frame without having to remove rear mech or chain-set. However if it's too large then some carriers will refuse to handle it. Also, you're going to have to store it at home so don't want it to be too huge. Weight should be as light as possible without sacrificing strength. Many airlines operate a weight limit and will charge you more if you go over it.
Interior: As well as good padding and a means of securing the wheels, straps to secure the bike moving around inside the box are essential.
Wheels: A bike box is a big awkward object so wheels or castors make life a lot easier.
Packing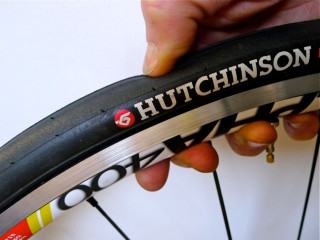 Remove wheels, seat-post, pedals and turn/remove bars if necessary: Once you've removed the wheels from your bike, if they aren't used to secure them inside the box, pack the QR skewers somewhere safe. Deflate your tyres to allow for the change in air pressure in the hold but not fully as some air will help to protect your rims. Remove your seat-post ensuring you've taped it to indicate your correct saddle height. Remove your pedals and put them inside of your cycling shoes. Place some bubble wrap over the top of the seat-tube. Turn or remove your bars making sure all bolts are replaced and are secure,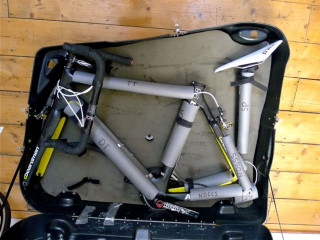 Protect your frame: Buy some foam pipe lagging from a local DIY store, cut it to the lengths of your tubing and mark which part of the bike it goes on. Insert spacers between your forks and rear dropouts. Your local bike shop should be able to give you some of these. Use a chain keeper to prevent the chain from slapping against the stays.
Secure and double check: Use internal straps in the box to hold the frame in place and fit additional blocks of foam around the frame from extra protection. Double check that the box closes cleanly and no parts of the bike are pressing or rubbing on each other.
Don't overpack: Don't be tempted to pack your clothing and kit around your bike in the box. It might well take you over the weight limit and, even if it doesn't, many airlines forbid it and will insist you repack.
Carry essentials in your hand luggage: Unfortunately luggage, including your bike, can go missing. Hopefully this will just be a 24 hour delay and you'll be able to hire a bike until your's arrives. In your hand luggage carry your cycling shoes, with pedals stashed inside, and one set of cycling clothing.