For those who tackle the climbs to charge the descents with confidence; Lazer - our Official Helmet Supplier - introduces the Cage KinetiCore, the first ever full-face helmet with a published 5-star protection rating from Virginia Tech.
Part of the reason for the safety rating is the KinetiCore tech - Lazer's very own responsibly designed, proprietary rotational impact protection - which is integrated directly into the helmet rather than added on. Which means not only are you safe but the helmet is lighter and has better ventilation as a result, two things that you lose with added on rotational impact technologies.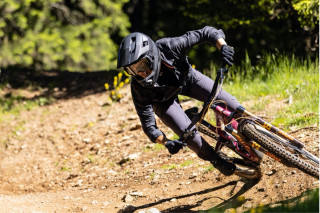 Designed for the modern downhill and enduro racer, the Cage has a whole host of other nice touches as well. There won't be any more fumbling with your helmet buckle – Lazer's magnetic buckle can be quickly undone with one hand with gloves on. It also has goggle grips to keep your goggles in place while you ride, is designed to fit with a neck brace to boost protection and is ASTM certified so it's internationally approved for downhill racing.
At 820g for a medium it's light too, and available in five sizes from XS all the way up to XL with the weight obviously changing according to what size you pick. Anyway, enough of our chatter, check out the below video if you want to get excited.
If that has you keen for a bit of Cage in your life, make sure you head over to our Official Supplier Freewheel and remember, British Cycling members get 10% off.