The £15 million Places to Ride fund, which was set up to secure a legacy from the 2019 UCI Road World Championships in Yorkshire, will now close earlier than planned due to a surge in interest from prospective applicants.
The fund opened in November 2018 and has already supported more than 50 successful projects, ranging from large-scale facilities to smaller equipment grants for clubs and groups. It was due to close to new applications in January 2021, however due to the large number of applications which have been received to date and the level of funding remaining, it has been decided to close to new Stage 1 applications for both large and small grants on Monday 16 November 2020.
Delivered through a partnership of British Cycling, Sport England and the Department for Digital, Culture, Media and Sport (DCMS), the fund has already supported a number of traffic-free cycling opportunities, including:
Doncaster Cycle Track (road cycling): A 1km-long, 6m-wide traffic-free circuit, featuring a man-made cobbled climb.

Adrenaline Alley (BMX Freestyle Park): Development of their BMX freestyle provision, to include additional ramps, resi jump boxes and a foam pit to engage beginners through to advanced level riders, as well as the addition of a spectator area.

Cyclopark Charity Trust (learn to ride): Funding to develop CycloLand, an innovative animated roadway which includes landmarks such as a miniature Dartford Bridge, to support children who are learning to ride in a fun and interactive environment.

Stratton Primary School (learn to ride and cycling skills development): A multi-use cycle track, which is open to the local community and acts as a hub for a number of community organisations.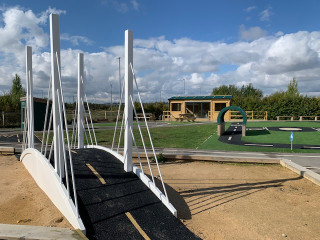 In June of this year we also announced a new collaboration with Crowdfunder, which enabled clubs and community organisations with existing Crowdfunding campaigns to be match funded by British Cycling through the scheme, and this remains open for applications.
British Cycling Head of Business Planning and Transformation, Andy Farr, said:
"When we launched the fund back in 2018 we said that we wanted to capture the enthusiasm of the championships and leave a lasting impact, and through both the phenomenal interest we've received and the brilliant schemes which have already come to fruition, I'm proud to say we have done just that.
"Our team is continuing to provide excellent support to prospective applicants and those who have already submitted their bids, and we look forward to announcing more of the successful applications in the coming months."
Charles Johnston, Sport England Executive Director of Property, said:
"One of the purposes of the Places to Ride fund was to make sure local communities can offer affordable and safe places to ride that help to inspire people, regardless of background, age or ability, to get on their bikes and enjoy the benefits of cycling. During lockdown, the popularity of cycling has doubled and the volume of quality applications setting out how we can meet this new demand in the future has been really impressive and will help more people get into cycling."
For more information on the Places to Ride fund, visit www.britishcycling.org.uk/placestoride