Clubs and community organisations are being encouraged to apply for up to £15,000 to support cycling projects as part of a new collaboration between British Cycling and Crowdfunder.
The new scheme will see existing Crowdfunder campaigns match-funded by British Cycling through the £15 million Places to Ride investment fund, which is being delivered through a partnership of British Cycling, Sport England and the Department for Digital, Culture, Media and Sport (DCMS).
Today's announcement falls in the annual Volunteers' Week, and it is hoped that the new scheme will provide vital equipment and resources to the clubs and groups which play such a vital role in getting more people on bikes, as they prepare to resume their activities in the coming months.
British Cycling's Head of Business Planning and Transformation, Andy Farr, said:
"We know that many clubs and community organisations are currently experiencing significant challenges due to the coronavirus pandemic. Through this new collaboration we want to supercharge existing fundraising efforts so that they can resume their activities in the best possible shape when the time allows."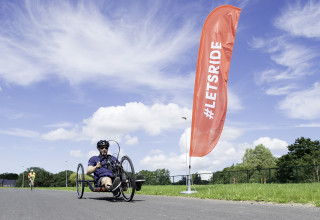 Since being launched in November 2018 to deliver a legacy for the 2019 UCI Road World Championships in Yorkshire, the Places to Ride fund has already received over 250 applications across England, with over £10 million committed to projects including large-scale facilities and small equipment grants.
From inspiring people to ride to connecting communities with equipment or small-medium scale facility improvements, the Places to Ride fund is in place to support organisations that are developing cycling activity in their area and looking to provide traffic-free opportunities for people to participate.
Most recently British Cycling made a £100,000 donation from the fund to the Wheels for Heroes campaign, which is providing rental bikes to enable NHS workers to safely travel to and from work during the pandemic.
Interested clubs and organisations can find out how to apply for funding here.
You can find out more about the Places to Ride fund here, and it will remain open to applications until January 2021.
The legacy campaign for the 2019 UCI Road World Championships is #OwntheRide, and you can find out more about that here.