World Cup Golden Girl: Lizzie Armitstead

Story posted October 27, 2009; by Larry Hickmott | World Cup Home Page |

Last winter, Great Britain's Lizzie Armitstead was the most successful female rider in the Track Cycling World Cup series. As well as a bucket load of medals, mostly Gold, in the World Cup races, the Otley rider backed that up with three World Championship medals, one of each colour, at the 2009 World Track Cycling Championships.

It is all a far cry from when still at school, she was 'spotted' by British Cycling's Talent Team coaches and given the launch pad from which to begin her sporting career. It seems like yesterday that I was in Poland (March 2009), along with Lizzie's very proud grand parents (and parents), watching the 20 year old take on the World's best and in the kick for the finish line, show what tactical nous, determination and speed in the legs she has.
Lizzie (left) on the podium at the Track Cycling World Championships in 2009 after winning the Team Pursuit with Wendy Houvenaghel (centre) and Joanna Rowsell (right).

Seven months later and Lizzie is back at the Manchester Track Cycling World Cup and before a well earned holiday to follow soon after, Lizzie has the task of doing her best to win World Championship qualifying points in the endurance events for the 2010 World Track Cycling Championships.

It has been a long year for Lizzie and there has been little respite for her with a busy road season following her success at the World Track Championships. That road season ended with yet another World Championship event, this time the road race. After it, Lizzie was straight back to Belgium for a few days to pack before returning to Manchester and training on the track where she has been for the last three weeks.

Lizzie says that the thought of a much needed holiday in the sun is what is pulling her through this intense period of training, racing and the pressure that goes with that. Far from being able to peak for such an event, Lizzie has just continued training by working on her leg speed and adjusting to the different demands of the track.

At the recent Track Nationals, Lizzie was again out there on the boards winning Gold medals but there was no special training for that, just getting on the upright bike and racing it. Most of her training for example has been on the 'lowpro' she uses for Team Pursuit drills.

In other words, Lizzie has done every little work preparing for the bunch races to come simply because it now looks as though one of the few remaining endurance events at the Olympics will be the Team Pursuit which is where her training right now is being targeted.

With the Olympic track race programme still to be settled, a ludicrous situation halfway through an Olympic cycle, Lizzie like many athletes realises that she needs to work on the events where Olympic medals are likely to be on offer and the Omnium, won last year by Aussie pursuiter, Josephine Tomic, is just such an event.

Whilst 2012 may seem a long way off, in reality there are very few major Track competitions between now and then, and as it has been at previous Olympiads, the rider numbers for Team GB will be tightly controlled. To stand a chance of being part of that GB Cycling team at the Olympics, Lizzie knows she will need more than one string to her bow.

When you have a team full of potential Gold medal winners, past experience has shown that a rider who can compete for Gold in one or more events will increase their chances of making the Olympic team. Lizzie for example, if all goes to plan, is likely to have three options, Road Race, Team Pursuit and now perhaps the Omnium too.

"My main goals this season are the Team Pursuit and the Omnium" she told me. "I know it is going to be quite competitive just to get a spot in the GB Team for the Worlds never mind what happens in the event. I think at the moment, it's looking like it will be between me and Anna Blyth for the Omnium and that's fine – we're good friends" she laughed.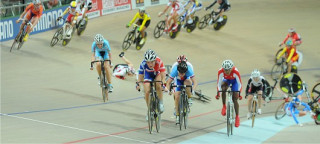 As riders tumble down behind her, Lizzie leads from the front as she leads out a sprint at the World Track Cycling Championships.

For those wondering why Anna is not in the British team for Manchester, the Leeds rider is currently out of racing because of illness and we wish her well and a speedy return to the GB fold!

Meanwhile, with the speculation rife that the Omnium will be the new track cycling Olympic event, Lizzie explained that unlike previous years where it was more a development race for a country, from 2010 onwards, the Omnium will now be much more difficult to win as country's enter their best riders to get the required experience to take on to London 2012.

Asked whether the five months she has between now and the Track Cycling World Championships will be enough to prepare for such a demanding event, Lizzie paused for a second or two before nodding and saying that yes, there is time for her to prepare well so she can have a good go at it. The Omnium however is not even in the Track Cycling World Cup programme which makes it all the more curious that the event is being touted as the new Olympic medal event.

With no Omnium at the Manchester World Cup, Lizzie instead will have three events to contest, one each day. If the rumours are to be believed that the IOC are considering running the Omnium along similar lines at the Olympics with one event per day, perhaps Manchester will be an ideal trial for Lizzie with the Omnium in mind.

Physically, it will certainly be a trial of strength as Lizzie tackles first the Women's Scratch race (Friday), then the Women's Points race on Saturday before finishing with the Women's Team Pursuit on Sunday. Throw in a few qualifying heats for the Scratch and the Points races and that is a demanding schedule for any athlete.

"They are going to be long days" she agrees. "When you're in the competition though, you are looked after well by the GB team and I don't have to lift a finger when I'm off the bike. That makes recovering that much easier. And, I have done it before so I know I can do it again."
The Women's Team Pursuit where Lizzie will get to don a skinsuit with the rainbow stripes on it.

During the three days of racing, Lizzie knows that in order to get through in the best possible shape to compete for the medals, she will have to qualify 'as easy' as possible. "It's all quite simple stuff" she said about conserving energy. "It's about getting the Rego's (recovery drinks) down me after riding and getting as much sleep as I can and keeping the focus. You can't let you're focus go until the end of the weekend which is sometimes hard when you've just won a Gold medal. You only have a few minutes to pat yourself on the back and then you have to refocus and go again."

Lizzie agreed that the days leading into the World Cup will be important to rest so that she is as fresh as possible for her first race on Friday. "I'm lucky in that I don't worry that I am going into a race too fresh because I know I'll need every ounce of energy come Sunday."

Talking about how she has improved over the years, one of the key areas where Lizzie feels she has improved is her tactical awareness in races. "That I find is much easier when you can dominate in an event" she explained. "Confidence for me is the major thing in bunch races and that has definitely evolved and with that, so have my performances".

"Once you have that win, you then know how it's done and you start a winning streak. Sometimes you can fight all you like and you're just not winning and that may happen to me but I know in the Scratch race, it is pretty simple in that if I have the legs, I will win. Knowing the girls at this level as I do now, and which wheels and the girls that need respect to push onto those wheels and so on makes a huge difference."
Lizzie with two very proud grandparents

An interesting angle on things is that Lizzie's teammate from Lotto this year, experienced Aussie campaigner Rochelle Gilmore is down to ride the World Cup too but Lizzie knows that unlike on the road where she would work for Rochelle, on the track things will be different. "She has been the team's sprinter" says Lizzie "but I'd like to give her a run for her money this week!"

After having won so many World Cup medals, I asked whether there is a real feeling of pressure on her shoulders. Lizzie replied "yes, such pressure has certainly grown over the years. Coming into Manchester, knowing I won three Golds last year, I certainly can feel it. Now, there are more friends and family wanting to come and watch and I'm getting more media requests. It does however feel quite natural and is not stressing me out."

If there is going to be a special moment though it will be on Sunday when for the first time, Lizzie and the other two girls in the Team Pursuit, Wendy Houvenaghel and Joanna Rowsell, will be donning the rainbow skin suits as reigning World Champions. "That will look good" Lizzie says with a smile before adding "and I'm looking forward to seeing the photos!" Suddenly, it's me that is feeling under pressure!

2010 and the Road
The track however is only part of the success story for Lizzie. On the road, as each year goes by, she is becoming more and more a threat to the very top girls and will soon, if not already, be challenging for victories in the major road races just like this year at the British Road Race championships where she won Silver behind ten time winner Nicole Cooke.

"I'm really proud of what I have done this year" she says. "I was brought up within British Cycling and as a cyclist that is all I have ever known. I never realised all the things that were done for me and having been with a small pro team this year, I have learnt so much invaluable stuff which has helped make me a lot more independent and a lot more responsible as a person."
Abergavenny 2009 and the Women's British Road Race Championships. Lizzie (right) was one of three riders to dominate the race. The others being winner Nicole Cooke (then world champion) and Emma Pooley (3rd).

"It isn't because the team (her trade team) didn't put the effort in, they simply don't have the budget to do the things for us riders that British Cycling does. Having had that experience with Lotto, I am now looking forward to having the luxury of being with a bigger team (Cervelo) and having the simple things done for me like having a recovery drink ready at the end of a race".

"I had a couple of options for 2010 and it was all about who would support me best with my track ambitions and towards 2012, which was crucial. Cervelo were keen to support me on the track which is really really good".

Asked for a season highlight on the road, Lizzie says "I think being the best young rider at the Giro was the highlight because it was literally the hardest thing I have ever had to do. Even the flat days were mountainous! It was a level up that race, harder than the Tour de l'Ardèche, Tour de l'Aude and any other race. Proper mountains, so ridiculous you just want to cry!"

"I also enjoyed Ardèche where I got a stage win and that was nice to be able race well against the best girls in the world."

Looking ahead to 2010, the big goal for the season will be the Road Worlds which are on a tough course in Geelong (Australia). They do however take place around the same time as the Commonwealth Games and many athletes will have tough choices to make. Lizzie has made hers by saying "because of my responsibility to the team, that event has to be the big goal. I think I have to choose the Road Worlds over the track at the Commonwealth Games because that is what I am paid to do as a professional road rider."

All these races however are but stepping stones to London 2012 and it is there that Lizzie is really hoping to win Gold. All the World Cups and World Championships will be forgotten at that point as it is the Olympics that really do matter above everything else.

It's where funding is decided for sports and its athletes and where reputations are made. Should Lizzie make it into the GB team for London, then it will be her first Olympics and we all know how difficult that can be, even more so for a home Games but you do get a feeling that starting in Manchester this Friday, the pieces of the jigsaw for Lizzie's Gold medal Olympic challenge will begin in earnest.

Whether it's the Team Pursuit where only three girls will get the chance to ride and lets not forget a certain Rebecca Romero who may challenge for a place in there, or the Omnium. Despite all the medals last year, no-one more than Lizzie knows how much work there is to do. And made of Yorkshire grit, few if any athletes, have more determination than her to succeed and succeed I am sure, she will.

Good luck to Lizzie at the World Cup

Related Links
Wikipedia, the free encyclopedia
Palmarès

2005
2nd Scratch Race, UCI Track Cycling World Championships (Junior)
7th Points Race, UCI Track Cycling World Championships (Junior)
1st Points Race, British National Track Championships (Junior)
2nd 500m TT, British National Track Championships (Junior)
3rd Scratch Race, British National Track Championships (Junior)
2006
1st British National Circuit Race Championships
1st WCRA Criterium Championships
2nd Scratch Race, British National Track Championships (Senior)
2nd Points Race, British National Track Championships (Junior)
2nd Pursuit, British National Track Championships (Junior)
3rd Scratch Race, British National Track Championships (Junior)
3rd National 500m TT, British National Track Championships (Junior)
4th Scratch Race, UCI Track Cycling World Championships (Junior)
4th Scratch Race, European Track Championships (Junior)
4th Points Race, European Track Championships (Junior) - equal on points with 2nd and 3rd
12th World Road Race Championships (Junior)
2007
1st Scratch Race, European Track Championships, Under 23
1st British National Circuit Race Championships
2nd Points Race, European Track Championships, Under 23
4th Scratch Race, Round 4, 2006–2007 Track World Cup, Manchester
6th European Road Race Championships, Under 23
2008
1st Scratch Race, European Track Championships, Under 23
1st Team Pursuit, European Track Championships, Under 23
2nd Points Race, European Track Championships, Under 23
1st Points Race, Round 1, 2008–2009 Track World Cup, Manchester
1st Scratch Race, Round 1, 2008–2009 Track World Cup, Manchester
1st Team Pursuit, Round 1, 2008–2009 Track World Cup, Manchester
1st Scratch Race, Round 2, 2008–2009 Track World Cup, Melbourne
1st Team Pursuit, Round 2, 2008–2009 Track World Cup, Melbourne
2009
1st Scratch Race, Round 5, 2008–2009 Track World Cup, Copenhagen
1st Team Pursuit, Round 5, 2008–2009 Track World Cup, Copenhagen
1st Team Pursuit, UCI Track World Championships
2nd Scratch Race, UCI Track World Championships
3rd Points Race, UCI Track World Championships
1st British National Road Race Championships Under 23
2nd British National Road Race Championships
1st Giro d'Italia Femminile (Giro Donne) Young rider classification
1st Tour de l'Ardèche Stage 6
1st Tour de l'Ardèche Points classification
3rd Tour de l'Ardèche General classification