Jaco van Gass won Great Britain's second cycling gold medal of the 2020 Tokyo Paralympics when he edged out team-mate Fin Graham in the final of the men's C3 3000m individual pursuit at the Izu Velodrome.
On day two on the track, there were also amazing silver-medal rides from some veteran favourites of the Great Britain team - with Aileen McGlynn, and her pilot Helen Scott, coming second in the women's B 1000m time trial and Jody Cundy doing the same in the men's C4-5 1000m time trial.
But the all-British men's pursuit final provided the Great Britain team with one of the highlights of the Paralympics to date as Thursday's total haul of four medals added to the gold from Dame Sarah Storey and two silver medals collected on day one of racing.
The British pursuiters had already signalled their intent on a dramatic morning of qualifying when Graham shattered the world record by nearly seven seconds, in a time of 3:19.780.
That old world record had stood for seven years but Graham's stood for a matter of minutes before team-mate van Gass recorded a breathtaking new mark of 3:17.593, carrying the two GB team-mates through to a gold medal showdown.
In the final, 35-year-old van Gass took an early advantage of just over half a second over the opening kilometre of the 12-lap race. The more experienced van Gass slowly built his advantage over his 21-year-old team-mate before winning by just over a second in a time of 3:20.987.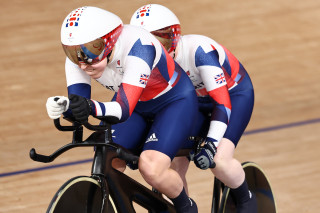 McGlynn's achievements were all the more remarkable given that the 48-year-old only came out of retirement earlier this year after the legendary GB rider Sophie Thornhill retired.
The silver was the seventh Paralympic medal of McGlynn's career and her first in nine years, since winning a silver in this event, and bronze in the individual pursuit, at London 2012.
McGlynn and Scott started second of the 10 pairs, and produced a stunning opening lap of 20.835 seconds which would not be bettered over the course of the competition.
And their time of 1:06.743 not only gave them an early lead but stood in the gold medal position until the very last riders - Larissa Klaassen of the Netherlands with her pilot Imke Brommer - beat it with a new Paralympic record of 1:05.291.
In between, British tandems Lora Fachie and Corrine Hall plus Sophie Unwin and Jenny Holl were also in contention for medals before finishing just off the podium, in fourth and fifth places, respectively.
But McGlynn could not have been more proud of her effort. "This feels like redemption for London which was a bit of a disappointment for us," she said.
"Although we got silver this time, we worked so hard and the partnership has been fantastic. We've only really been together for the last 12 weeks and it's been amazing.
"I wasn't really competing last year, I was just riding my bike, and it was only with Sophie retiring that I was approached just to try out. So to come back with a lifetime personal best has been an amazing feeling."
Cundy, the 20th of 21 riders to set off in the men's C4-5 kilo, set a blistering time of 1:01.847, giving him the lead by almost three seconds.
But the last competitor in the field, Spain's Alfonso Cabello, was up on Cundy by three-tenths of a second after the opening half-lap and held on to that advantage, in a new world record time of 1:01.557.
The 42-year-old was still able to collect the sixth Paralympic medal of his illustrious career spread over four Games dating back to Beijing in 2008.
"I thought I'd be disappointed standing here with a silver medal," said Cundy. "But the time I posted was a phenomenal time and I just got beaten by the better man today.
"Alfonso pulled out a special ride today, so silver it is. If you're going to get beaten, you might as well get beat like that.
"I did the best I could, that's the best performance I've ever done; sadly, it wasn't quite enough but I can hold my head up high."