Dame Sarah Storey set yet another incredible Paralympic record with her third gold of Tokyo 2020 and Ben Watson joined her with his own second gold medal of these Games on another successful day for Great Britain.
Behind them, there were also strong silver medal showings from Crystal Lane-Wright and Fin Graham as GB success in cycling events at the Paralympic continued at the Fuji International Speedway.
The medal rush might have been even better with Jaco van Gass narrowly missing out on a bronze in the men's C1-3 road race that was dominated by his team-mates.
But the four-medal day made it 23 cycling medals for the Great Britain team in Tokyo, with golds hitting double figures - on 10.
And for Storey, 43, victory over Lane-Wright in the women's C4-5 road race gave her sole ownership of a British Paralympic record.
The gold was the 17th of Storey's amazing career, which started at the 1992 Barcelona Paralympics when she was a swimmer.
That mark of 17 beats the 16 golds won by swimmer Mike Kenny and makes her, indisputably, the most successful British Paralympian of all time.
"I'm a bit overwhelmed again," said Storey. "I can't explain or compute anything about the race but crossing the line first felt so good.
"My mum and dad said to me when I was 12, and I wasn't winning anything in swimming and I couldn't make national age groups, they just kept saying 'Focus on yourself, Sarah, just focus on your best.' And that's what I keep trying to do."
British dominance in the two 79.2 kilometre road races was all the more impressive given the terrible rainy conditions in which they were ridden.
Caution was the order of the day, but Storey rode a masterful tactical race, adding to the Tokyo golds she has already won in the individual pursuit on the track and in the time trial on the road.
Storey and Lane-Wright led a five-rider group that chased after an early breakaway from Germany's Kerstin Brachtendorf in worsening wet conditions.
Lane-Wright, 35, played a key role in bridging the gap by the end of the fifth of the race's six laps and, on the final lap, the two British stars rode away together before Storey built a seven-second winning margin over the closing metres, finishing in 2:21.51.
She also revealed afterwards that, after winning three silvers behind Storey in Tokyo, Lane-Wright was to retire from the sport. "This was my last race and I've finished on such a high," she said.
"I've had such an amazing career, I couldn't have asked for more. It was good to see Sarah so successful and dominant and if I have three silvers in her shadow, then I'm happy."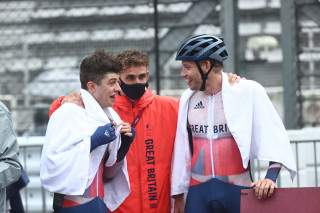 Watson, 32 and racing his first Paralympics, added to the gold he won in the time trial when he made a devastating solo attack on the third of six laps, building a gap of well over a minute by the end of the fourth.
His 21-year-old team-mate Graham made a similarly massive effort of his own on the next lap, leaving the main bunch behind and riding his way towards silver.
"I love racing in the rain," said Watson. "Coming from the north-west, it does this all the time so when I woke up this morning, I had a smile on my face.
"But that was a team effort. Fin and Jaco have been absolute heroes at these Paralympics and to have three of us in the top five is better than the gold for me."
Watson eventually won in a time of 2:04.23, beating Graham by 1:20 who, in turn, was a massive 5:23 ahead of the chase group, among whom van Gass just missed out on bronze and finished fifth.