Quillan Isidore believes the long, wide track at Papendal will suit his strengths when he races at round three of the UCI BMX Supercross World Cup this weekend.
The 19-year-old is one of four Great Britain Cycling Team riders in action at the National Sports Centre in Arnhem, Netherlands.
Having made his first world cup appearance outside the UK at the venue in 2015, Isidore is feeling confident having admitted to struggling when he competed there last year, exiting in qualifying.
"Last year I was a bit intimidated from it because it was my first supercross track outdoors," said Isidore, an under-16 world champion in 2012.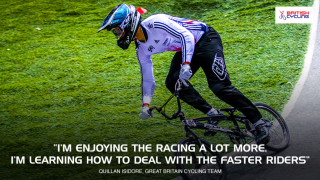 "It was quite windy at the time so I was a bit nervous. But this year I am really looking forward to it, because Manchester is really tight and compact and it is all about the start really. When I open up that's when I'm best."
Isidore missed the opening world cup round in Santiago del Estero before reaching the motos at round two on home turf in Manchester.
In Papendal, with its open course and often windy conditions, Isidore has a test that he is relishing.
"I think I should do a lot better there and I'll enjoy the racing there," he said.
.@Quillan96 is all set for Papendal @UCI_BMX_SX this year and expects some exciting racing.https://t.co/eOZaYiNalshttps://t.co/SNJdQN3W8U

— British Cycling (@BritishCycling) May 5, 2016
"It's a long track so fitness will play a part in it but I don't think that's an issue at the minute.
"I am on top of things, they've had a few changes there and they look better. It should make for some exciting racing I think."
Isidore will take to the start gate his weekend on Saturday in the qualifying motos, aiming to reach Sunday's main event.
Away from the track, the British Cycling Olympic Senior Academy rider has been working with Great Britain Cycling Team lead psychologist Ruth Anderson and says he is enjoying racing more than ever.
"I'm enjoying racing and I've got a better head on my shoulders for it. I've done some work with the psychologist, Ruth, and that has helped massively.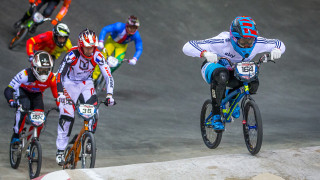 "I think I'm enjoying the racing a lot more, from the experience I'm learning how to deal with the faster riders and what I need to do.
"Just backing yourself is the main thing for me at the minute and if I do that I'll be able to do the best I can and hopefully put out a good result."
How to follow
Watch the action live on the British Cycling website.
Report, gallery and reaction on the British Cycling website.
Follow @BritishCycling on Twitter for updates.