Great Britain Cycling Team's Jon Dibben says surgery to repair his fractured left elbow was a success – and he's already looking forward to getting back on his bike.
The 22-year-old, who won his maiden world title in the points race at the 2016 UCI Track Cycling World Championships in London, suffered a crash during the recent ZLM-Roompot Tour.
Despite undergoing surgery on Tuesday, Dibben is confident that the injury is just a speedbump on the road to Rio.
"It's not ideal, but certainly August is a long long way away so I'll just hop back on.
"There's nothing important in the next couple of weeks that I'm going to miss because of it, so it'll just be a case of getting back to form and then hopefully get back to as well as I've done recently."
Dibben was part of a Great Britain Cycling Team under-23 squad competing in the Netherlands and the Southampton rider was hoping to build on his recent strong performance at the under-23 Tour of Flanders where he finished second.
He said the crash that lead to his injury was fairly innocuous.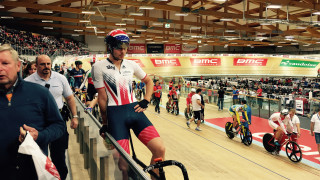 "It was pretty calm. There wasn't actually much wind this year, there's usually a lot of crosswinds racing in the Netherlands. There was a heavy brake into a corner and whoever was coming down didn't brake, came flying in and took a few of us out.
"Obviously in the year we're in this year, it's not a good time at any point but it certainly could be worse. At the end of the day, it's just my elbow. It's not my leg, I can still pedal."
Dibben is already seeing more movement with his elbow than was expected following the operation and is hopeful he can begin his rehabilitation programme this week.
With the Olympics in Rio on the horizon in August, he's keen to get the hard work started as soon as possible.
"I'm looking at five or six weeks before I'm back riding on the road properly and certainly six weeks before it's safe to race.
"It's unfortunate to crash probably in the form of my life, the best I've ever gone, but I have a good rehab programme and I'm not too worried about losing too much.
"I'll be trying to get back to road riding which is really where you get the gains as quick as possible."