Great Britain Cycling Team youngster Emily Nelson believes she still has work to do to make the leap to elite level cycling as she looks ahead to this week's UCI Track Cycling World Championships in London.
At just 19 years of age, British Cycling Olympic Senior Academy rider Nelson is the youngest member of the 20-person squad.
In January she made her UCI Track Cycling World Cup debut in Hong Kong for Great Britain, and will be hoping to repeat the success of that weekend when she helped the team pursuit squad to a silver medal, as well as taking bronze in the points race.
"Coming up and racing with and against elite female cyclists has been a massive step up for me, and I'm still making that leap," said Nelson.
"I am still very much part of the development squad and I still ride with the academy girls, but ahead of the Hong Kong world cup and now the world championships I have been training with this team and learning to hang on in there."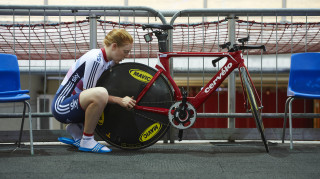 Nelson has been sharing the boards with Laura Trott, Joanna Rowsell Shand, Elinor Barker and Ciara Horne - who have amassed multiple Olympic, world and European titles between them.
Rider Route
Rowsell is Olympic and five-time world champion, and says the work done day-in-day-out is rarely seen, but vital for young cyclists like Emily.
"You don't see all the effort that is put in behind closed doors. I believe we have an effective system, and the eight girls in the academy are all based in Manchester, which is beneficial for training and improving," Rowsell told press in Manchester.
"They train day after day and see what the elite squad are doing, so I think that makes the step up easier because you know what you're aspiring to.
"It's hard work though and it always will be when you're coming into a squad with the best riders in the world.
"Credit to the riders that have done that though, because they have to learn quickly. Elinor back in 2013, Ciara and now Emily, have all had to work really hard but they've done ever so well."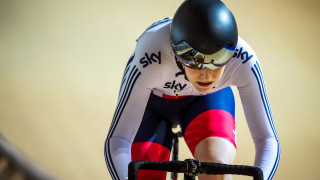 Laura Trott
Trott also heaped praise on the Rider Route, while looking ahead to next week where she hopes the British crowd will help lift the pursuit team to a gold medal after being beaten by Australia in Paris in 2015.
"I think our nation performs to the level it does because it has such a great development system; there are always people trying to push their way in so you don't want to take your foot off the gas," said Trott, with clear support from her teammates.
"Something that really excites me is having a home crowd because they cheer so loud and it gives you a buzz when you're riding.
"It can be difficult in team pursuit because you want to talk to each other, but with the crowd cheering we can't do that and we have to hope the prior training has gone well enough that it happens on the day."