"I have had a tough time." Annie Last talks about her long battle back from injury – and now she is fit enough to race again – how she hopes to return to the top of the sport and win bike races.
Last is speaking following the first UCI Mountain Bike Cross-country World Cup of the season in the Czech Republic, where she finished 16th.
Two years ago, the same event was supposed to be the start of Last's career as a professional mountain biker. Signed to the Trek Factory Racing team, Annie had high ambitions after four years as one of the world's best under-23 cross-country mountain bikers.
"My thoughts were on stepping up again, getting comfortable in the top ten and on the podium. You want to see yourself progress as an athlete year on year."
What followed was what British Cycling Olympic Podium Programme Last describes as "being knocked back by a couple of years."
A back injury identified in 2013 was first believed to be manageable, but by July Last decided to stop racing and entered into a long rehabilitation programme – a time which she vividly remembers for all of the wrong reasons.
"It was an extremely frustrating period but a period where I learned a lot about myself.
"I had a really long time away from racing and training and it was not a nice experience - but it really did highlight to me how much I want to win mountain bike races. I spent the time away from the sport doing rehab and all the non-fun, non-rewarding bits. You only do that if you really want it."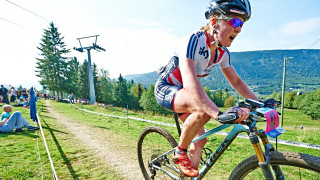 Olympic qualification
In 2012 Last was the first British woman to qualify for the Olympic mountain bike race in over a decade – but the outlook for Rio 2016 leaves Last facing one of the biggest tests of her career to qualify.
The qualification period began in May 2014 and ends in May 2016. The three top scoring riders from each nation contribute to a points total to derive a nation rank, where the top eight nations qualify two athletes and positions nine to 17 qualify one position.
Currently Great Britain sit 24th in the table – a circumstance of which Last is acutely aware.
"Great Britain are quite a bit off qualifying," the British champion explains.
"I believe it is doable. We just need to raise our game and get on with it. Obviously being in a position to race again is the key to this. We're going to have to really score a lot of points from here to the end of the qualification period and that's what it comes down to."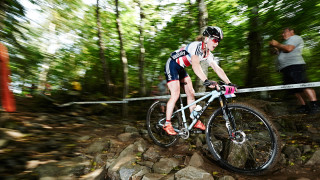 As Britain's best cross-country athlete – even taking into account a prolonged injury – Last will have to score more than most, but her immediate focus is on returning to her best, in order to be competitive at the highest level once more.
"If I go fast and win races, that scores Great Britain qualification points and you need to look at it that way rather than thinking I need to score points and how to get them.
"At the minute my focus is to get back to the front of world cups. I got 16th at the last world cup which which was a good start to the campaign but I want to improve this in the next rounds.
"I'd like to be up at the front of world cups, on the podium and winning races. I don't know if it's going to happen or not but that's what I'm aiming for."
Watch Annie Last race live this weekend at round two of the UCI Mountain Bike World Cup in Albstadt, Germany on Red Bull TV.