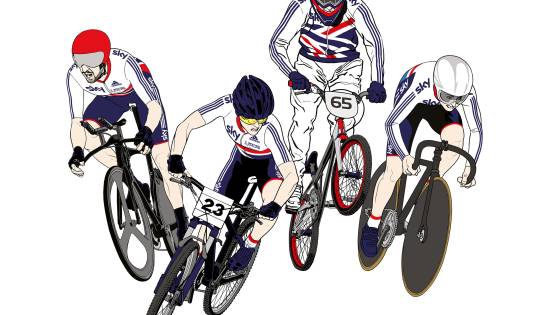 The Great Britain Cycling Team's goal is to win world and Olympic medals across all disciplines.
This will be achieved by identifying, confirming and developing riders through six stages.
Olympic Podium Programme (OPP)

The pinnacle of the performance pathway, the Olympic Podium Programme is dedicated to supporting highly skilled elite cyclists as they aim to win medals in major competitions, such as European, world and Olympic championships.
Riders are full-time on the programme and generally based near the team's Manchester headquarters. Riders may also be members of professional (trade) teams, receiving additional support from the programme.
Olympic Academy Programme (OAP)

The Academy is the finishing school that fine tunes athletes to make the jump to the senior programme and prepares them for graduation onto the Olympic Podium Programme. The Academy is a full-time residential programme, based primarily at the National Cycling Centre and is designed for riders aged 18-23 years old.
Olympic Development Programme (ODP)

The focus here is for riders, typically aged 15-17 years, to develop their skills strategies and fitness to cope with the demands of racing. Recruitment onto the ODP is selective, and progress is continuously monitored.
ODP riders receive discipline specific coaching from Great Britain Cycling Team coaches, individual training programmes, a structured race programme, and support and education from GBCT's performance support team.
More information on the Olympic Development Programme
Olympic Development Apprentices (ODA)

This programme is aimed to support young riders typically aged 14-15 years with the transition into the junior ranks by further developing their skills both on and off the bike.
More information on Olympic Development Apprentices
Regional Schools of Racing (RSR)

Riders aged typically between 14-16 years who perform well and show promise at their club and in regional competition can be nominated for a Regional School of Racing (RSR).
During an RSR, riders are coached and educated as part of a select group of riders from their region.
More information on Regional Schools of Racing
Club Clusters of Training (CCT)

The Great Britain Cycling Team supports Go-Ride clubs that have made a commitment to ensure that the development of young riders is at the forefront of club activity.
They are safe and effective way for young riders to develop their skills and can be found in each region. Club Clusters of Training are aimed at riders aged 12-16.
More information on Club Clusters of Training
Contact us
For more information on British Cycling's performance pathway please contact us at pathway@britishcycling.org.uk.